This is what the experts are saying about Meghan's wedding dress
21st May 18 | Weddings
Fashion industry insiders give their verdict on the most anticipated gown of the year.
After months of fevered speculation, we finally know that Meghan's wedding dress was designed by Clare Waight Keller for Givenchy.
The choice of Waight Keller – who last year became the first female Artistic Director at the French fashion house – was a surprise to most, as Ralph & Russo had been the bookmakers' favourite right up until today.
To marry Prince Harry, the newly named Duchess of Sussex wore an ivory gown with a boat neck and bracelet-length sleeves, with an impressively long veil held in place by a diamond band tiara lent by the Queen.
Judging by reaction on social media, the choice is a huge hit with the public – but what do fashion industry pros have to say?
We asked four fashion designers and experts for their reaction to the royal wedding dress.
The modern style is a hit
"Meghan is wearing an exquisite, simple, flattering sheath wedding dress with long, elegant sleeves which expresses her minimalist chic glamorous style," says shoe designer Aruna Seth.
"Meghan looks thoroughly modern with her choice of gown and has given her nod to the royal family and Queen by following the royal traditions of covering her shoulders and a long sleeve," says bridalwear designer Caroline Castigliano, who calls the bride's entrance into St Georges Chapel "a moment of history in a simplistic style".
"It is a bold choice that may divide viewers but I love that it is a dress that does not become the talking point, does not distract or shout for attention," says Stefan Kyriazis, Arts & Entertainment Editor from Daily Express Online who previously worked in fashion and was a personal shopper for the likes of Princess Diana.
The dress is surprising in some respects
"I thought there'd be more embellishment, but this is modern, structured and streamlined," comments Andrew Barton, celebrity hairdresser and Sky's Style correspondent during the royal wedding. "It's very simple and elegant."
"I expected bare arms but the scooped neckline was elegant and the simplicity of the dress was deceptively stunning," Kyriazis says.
"Meghan has totally surprised us wearing Claire Waight," Castigliano adds. "This was not talked about in the press at all and they kept it all top secret!"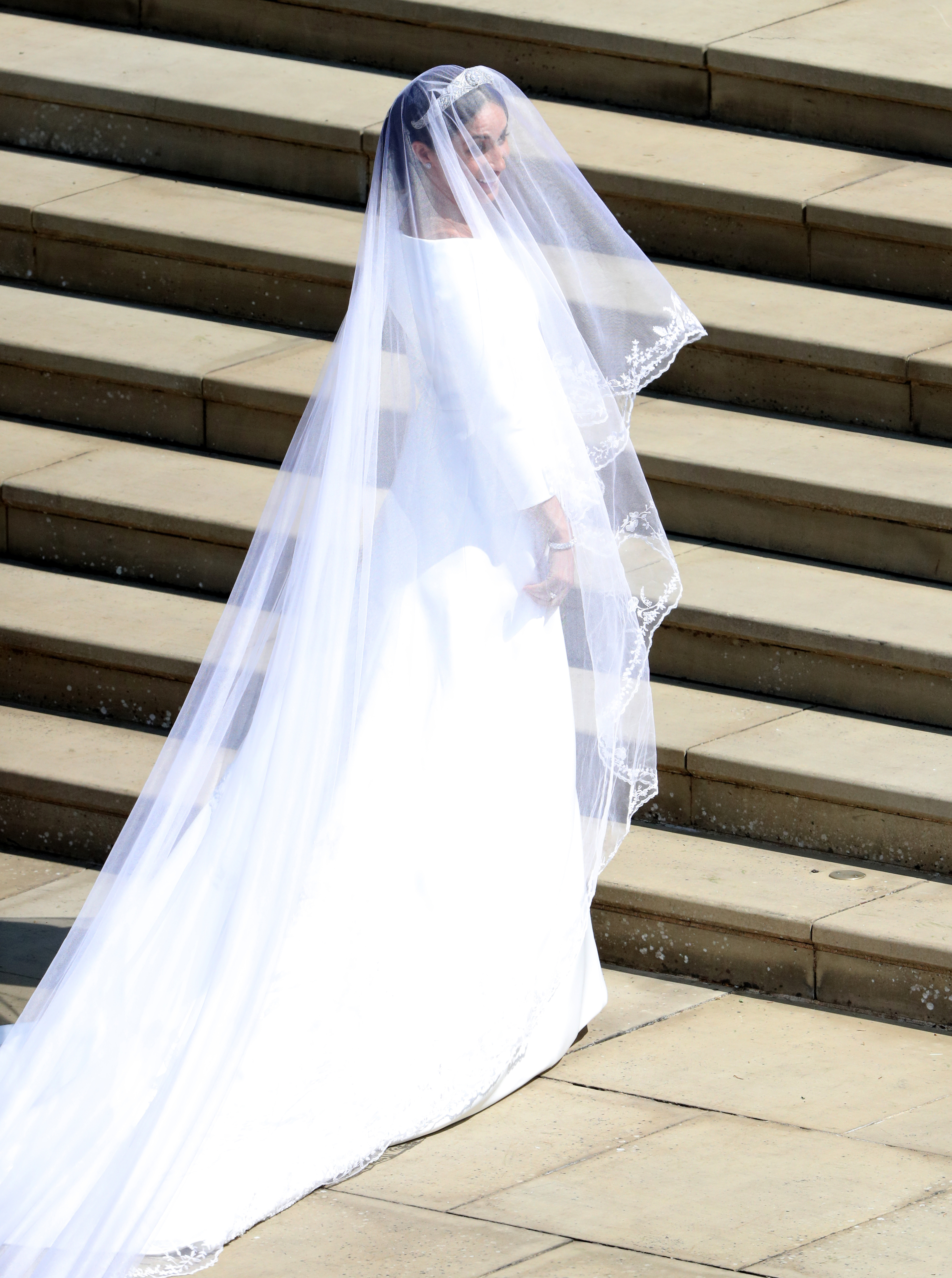 The veil and tiara are much-admired
"The tiara was glistening at the chapel," says Seth of Queen Mary's diamond bandeau tiara, lent to Meghan by The Queen. "The traditional lace-finished veil covering her face with her hair in a low bun contrasts to her very modern simple bridal dress."
"Meghan has brought the splendour here with a long veil," says Castigliano of the intricate design which included a floral motif representing each of the 53 countries of the Commonwealth.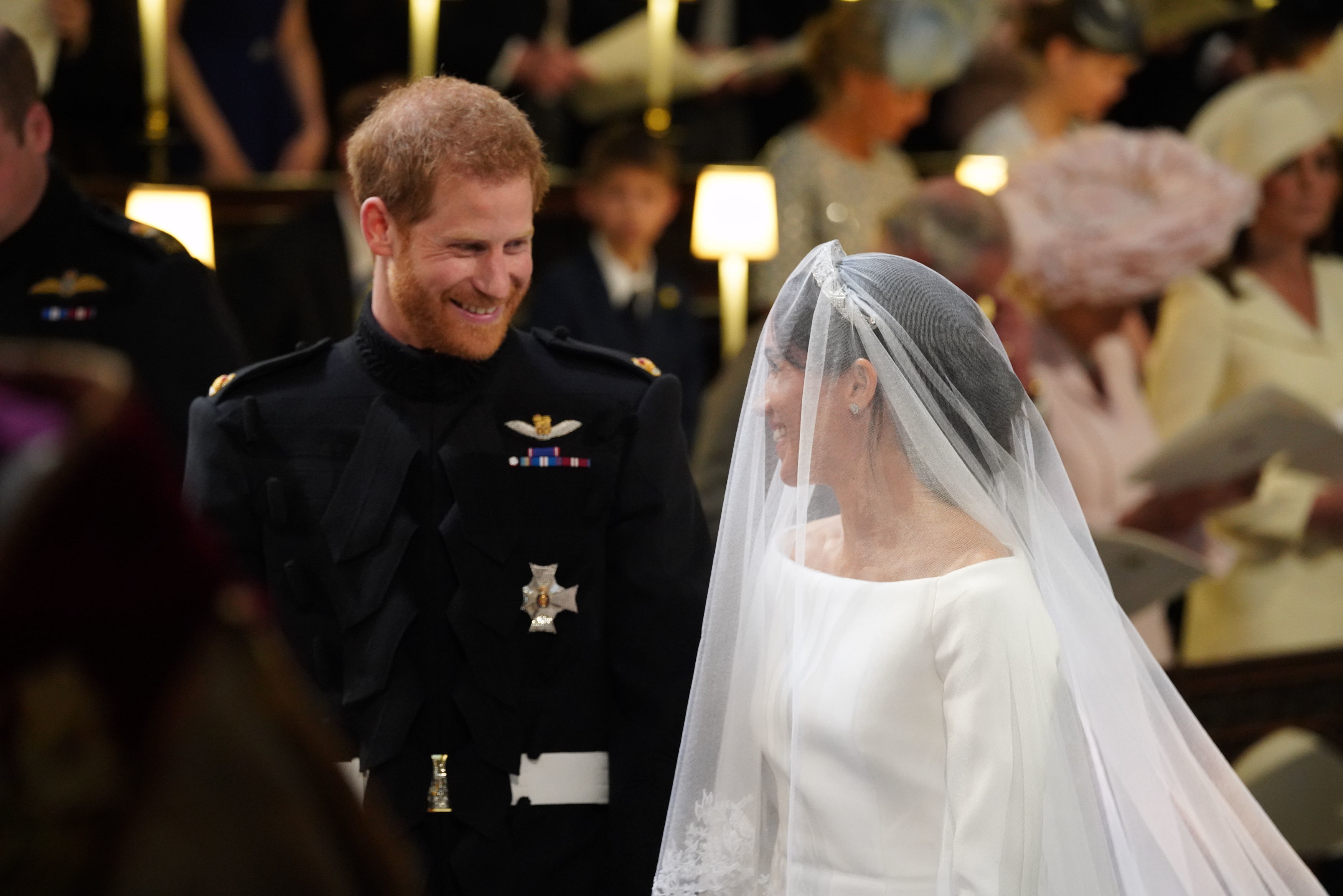 The hair is perfectly suited to the dress
"By keeping her hair off her shoulders, Meghan ensures we see the dress in its full glory – especially with the veil behind her. If her hair was down, there would be too much going on and the neckline would get lost," Barton comments. "I predict it will become the hair up style for brides this season. It's a real statement look."
"The hair gathered in a relaxed up-do was quietly and confidently sexy, exposing the nape of her neck," says Kyriazis.
How does it compare to Kate's dress?
"Meghan is going into a family that has been seen in the public eye for 1,000 years and has definitely made her mark with this wedding gown…which is quite remarkable in the way it's so simplistic compared to other dresses we have seen on Diana and Kate," said Castigliano. "She certainly differentiated herself from Kate who did it all in lace."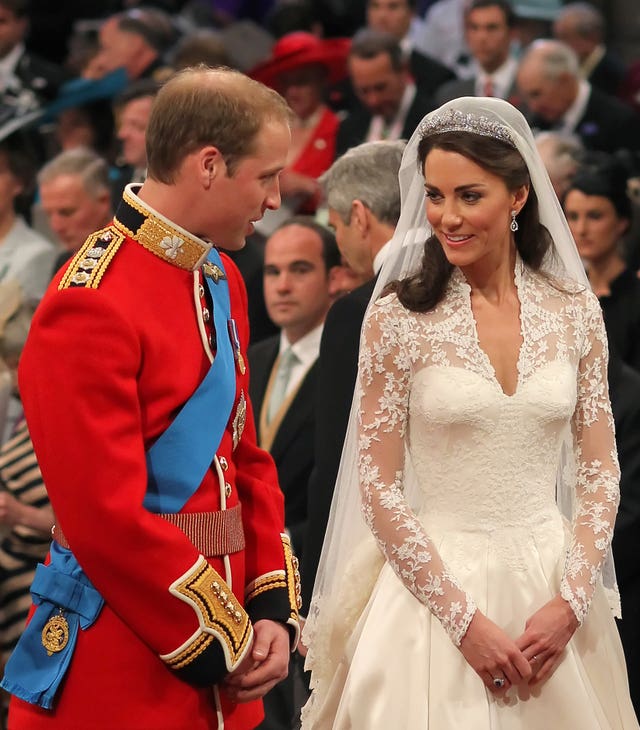 "It's so much more simple than Kate's in its lack of lace or decoration," says Barton.
Seth concludes Meghan is a "contemporary bride compared to Kate's wedding where she was more traditional and elegant".
© Press Association 2018