Molly Goddard on dressing Rihanna, her new collection and why diversity is so important in fashion
17th Feb 18 | Beauty
Katie Wright caught up with the designer backstage at London Fashion Week.
Easily one of London's coolest designers, Molly Goddard is known for her voluminous tulle dresses, quirky catwalk shows and legion of equally cool and quirky celebrity fans – including model of the moment Adwoa Aboah and Rihanna, no less.
Backstage at Goddard's autumn/winter show at London Fashion Week, while the models were having the finishing touches done to their make-up and putting on their first looks, ready to take to the catwalk, we grabbed two minutes with the designer to chat fashion and famous fans…
Tell me, what's the collection all about this season?
"It's about quite a lot of random things! I really like bubble shapes and gathering and cinching, and then being able to change the silhouette, so there's a lot of fabrics that can sit very flat or you pull it apart and suddenly create loads of volume. That was really fun. It's about being a little bit overdressed, but I like the idea that no one is ever really overdressed."
How did you decide on the colour palette and shaping?
"It's bright, but wintry colours – there's bright green – it's a lot about texture and silhouette. We created lots of texture with shirring [gathering] and smocking and all the frills, and we did lots of circular cutting to create rounded shapes."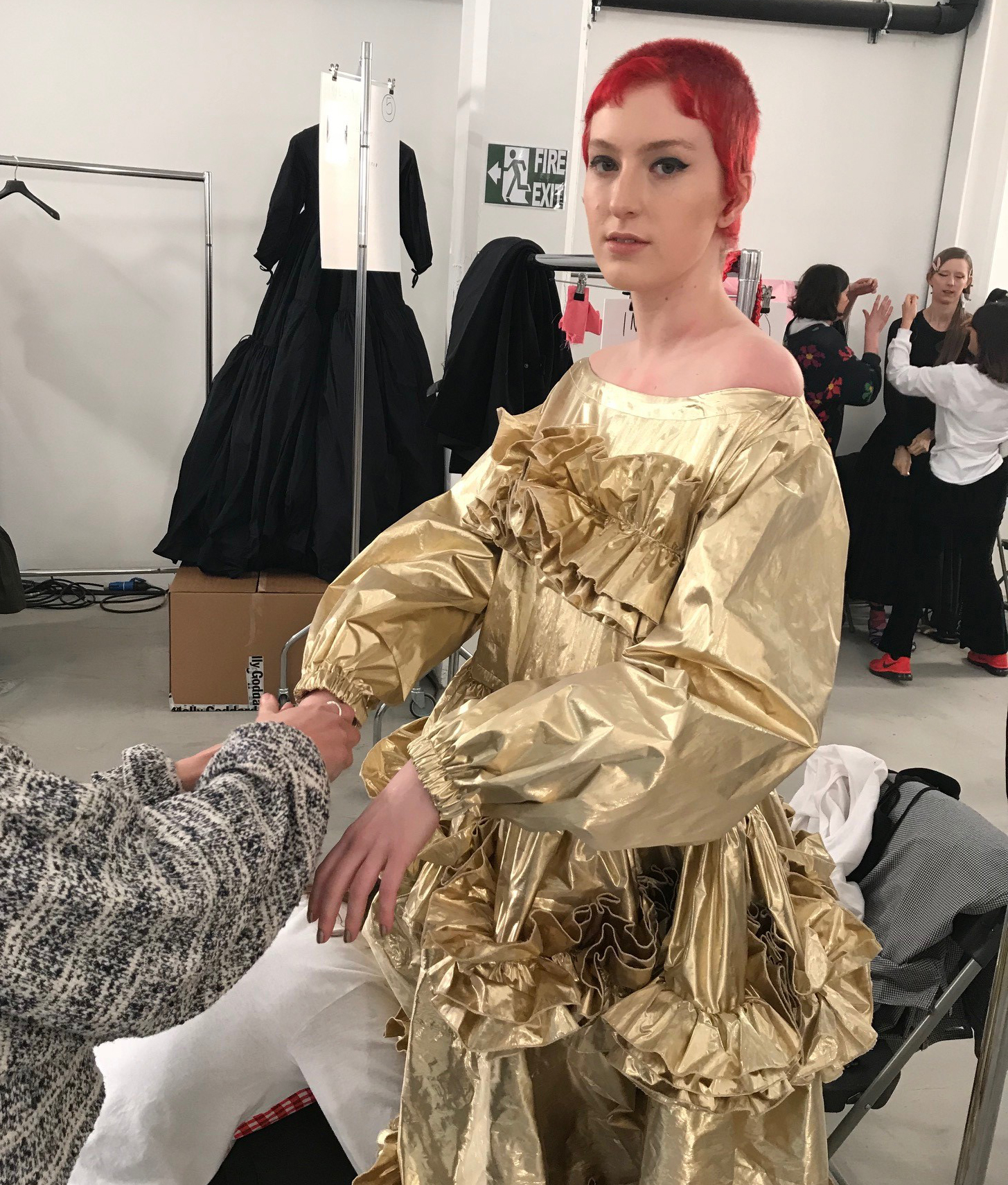 You've got a real mix of models today. How important is diversity for you in terms of casting?
"Very important. I like everyone to look different and have different personalities. It's crazy that everyone should ever conform to one look."
You dressed Rihanna for the UK launch of Fenty Beauty last year, what was that like?
"Amazing. She's amazing. It was a bespoke piece, we've done a few pieces for her."
Did you have a clear vision for the design or did you work with her?
"We worked with her stylist, there was a bit of back and forth. We just normally make something and see what she likes."
Did you meet Rihanna on the night?
"I didn't that night. Stupidly I got there too late!"
She was really late that night, wasn't she?
"Yeah, but we turned up even later! Hopefully next time!"
© Press Association 2018