13 of the wackiest looks from the London Fashion Week Men's catwalks
8th Jan 18 | Beauty
Nipple-revealing tie-dye shirts and sandcastle headpieces anyone?
Ahead of the main womenswear shows in February, London Fashion Week Men's has been taking place over the last three days, with designers displaying their autumn/winter 2018 collections.
But if you thought that just meant a load of grey suits and boring trench coats given a tiny tweak to distinguish them from last season, think again.
The biannual menswear event is hotbed of young design talent, consistently delivering the most eccentric and extraordinary looks of all the fashion capitals.
Admittedly, you might not want to wear these clothes, but they're not really destined for the shop floor, and you can't fault them in terms of creativity.
As the menswear shows draw to a close, we look back at some of the weirdest and wackiest outfits to grace the catwalks…
1. Alex Mullins
We've seen a few brave blokes wearing crop tops to the men's shows in recent years, but if the Alex Mullins catwalk is to be believed, next year they'll be able to go one further with the arrival of this nipple-bearing tie-dye shirt.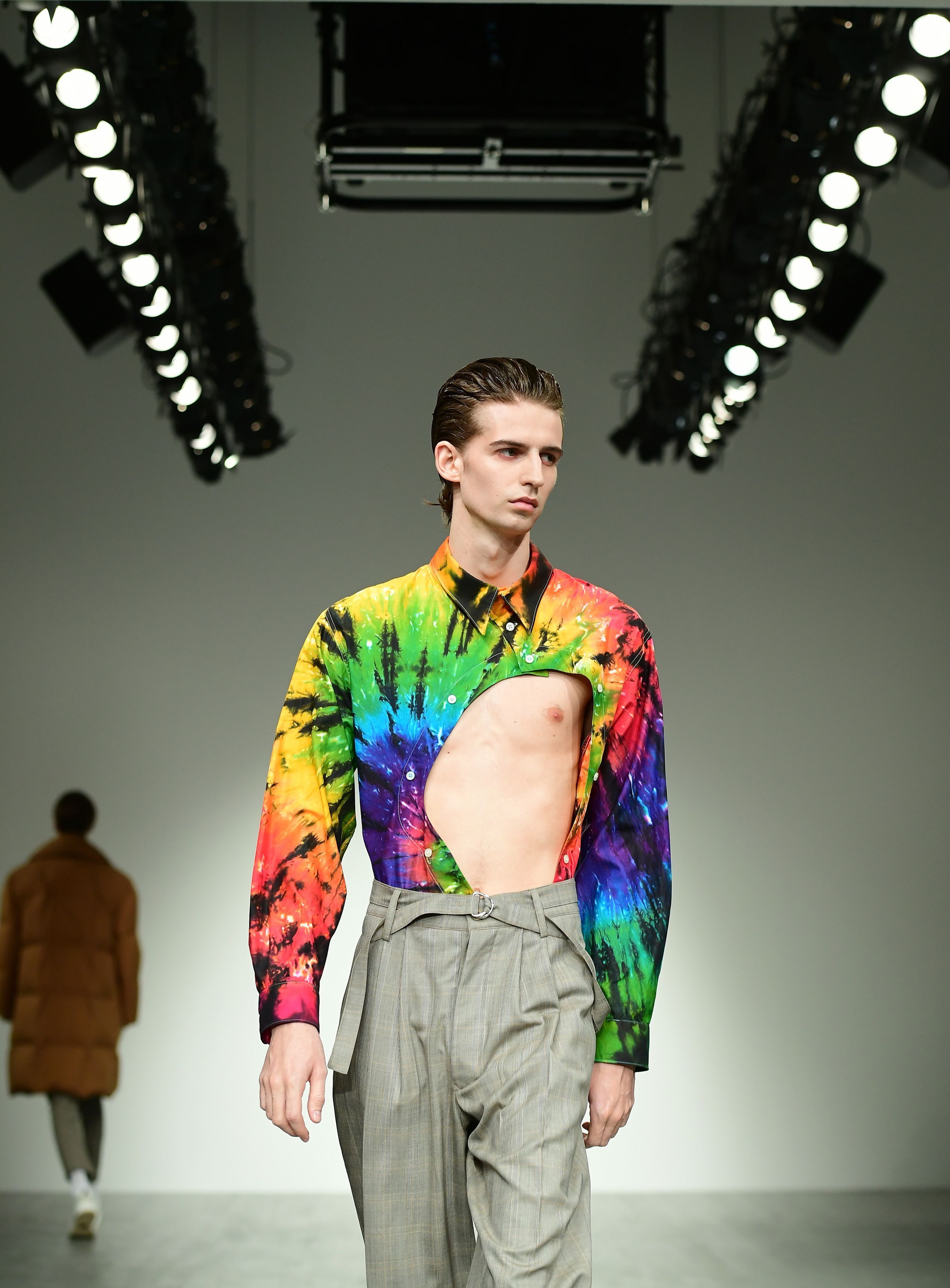 (Ian West/PA)
2. Christopher Raeburn
Vertical zips? They're so last season, babes. According to Christopher Raeburn, autumn '18 will be all about the diagonal zip, perfect for ventilating your outfit on warm days – or making it look like there's a giant gaping mouth on the front of your coat.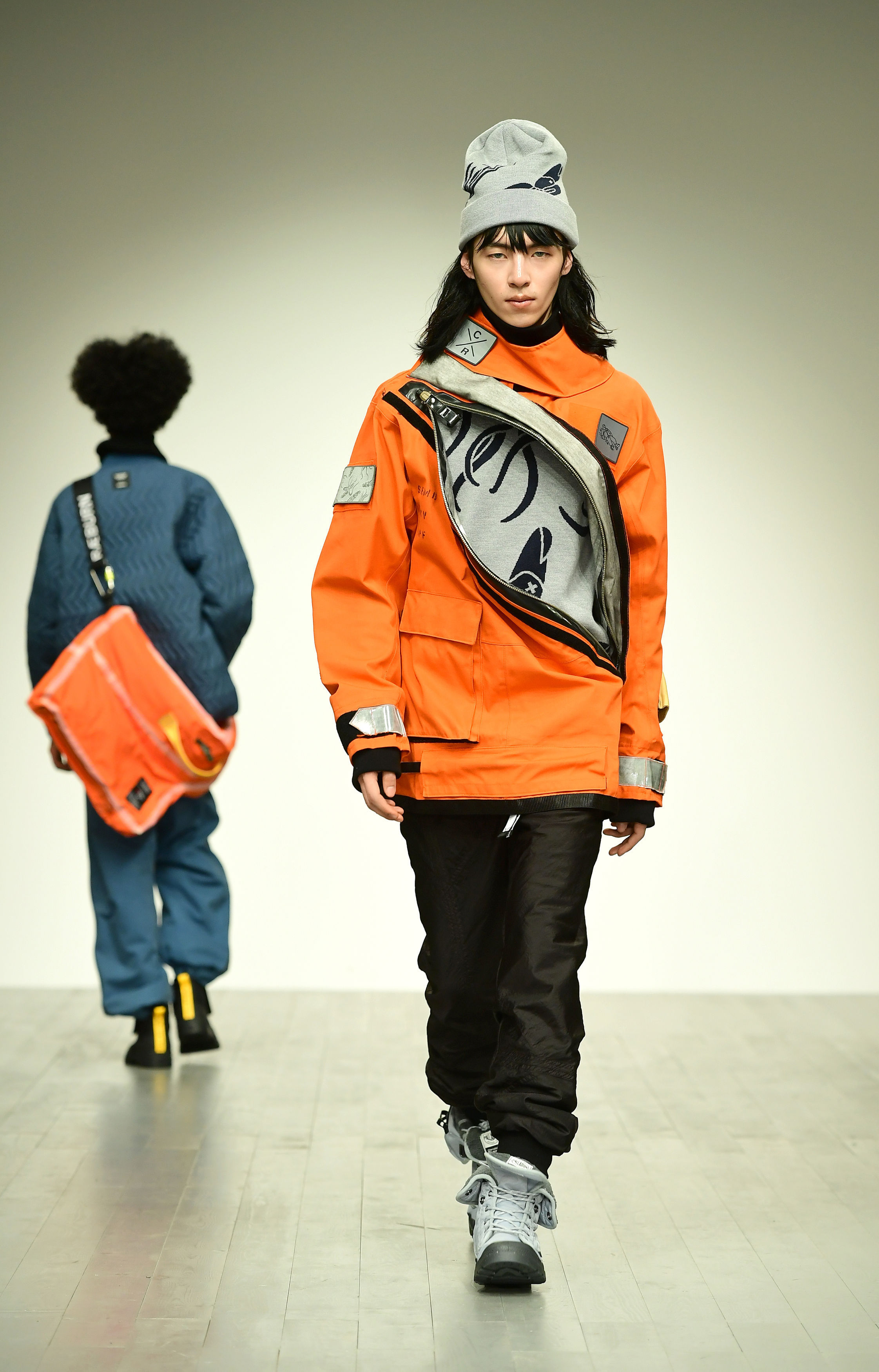 (Ian West/PA)
3. Art School
The MAN initiative, founded by Topshop and Fashion East, always brings us some mind-boggling designs, and this season is no exception.
First up was Art School and this lime-green bandeau top look, which reminds us a bit of the infamous 'top' Jodie Marsh constructed from a pair of belts back in 2003 (an iconic fashion reference if ever there was one).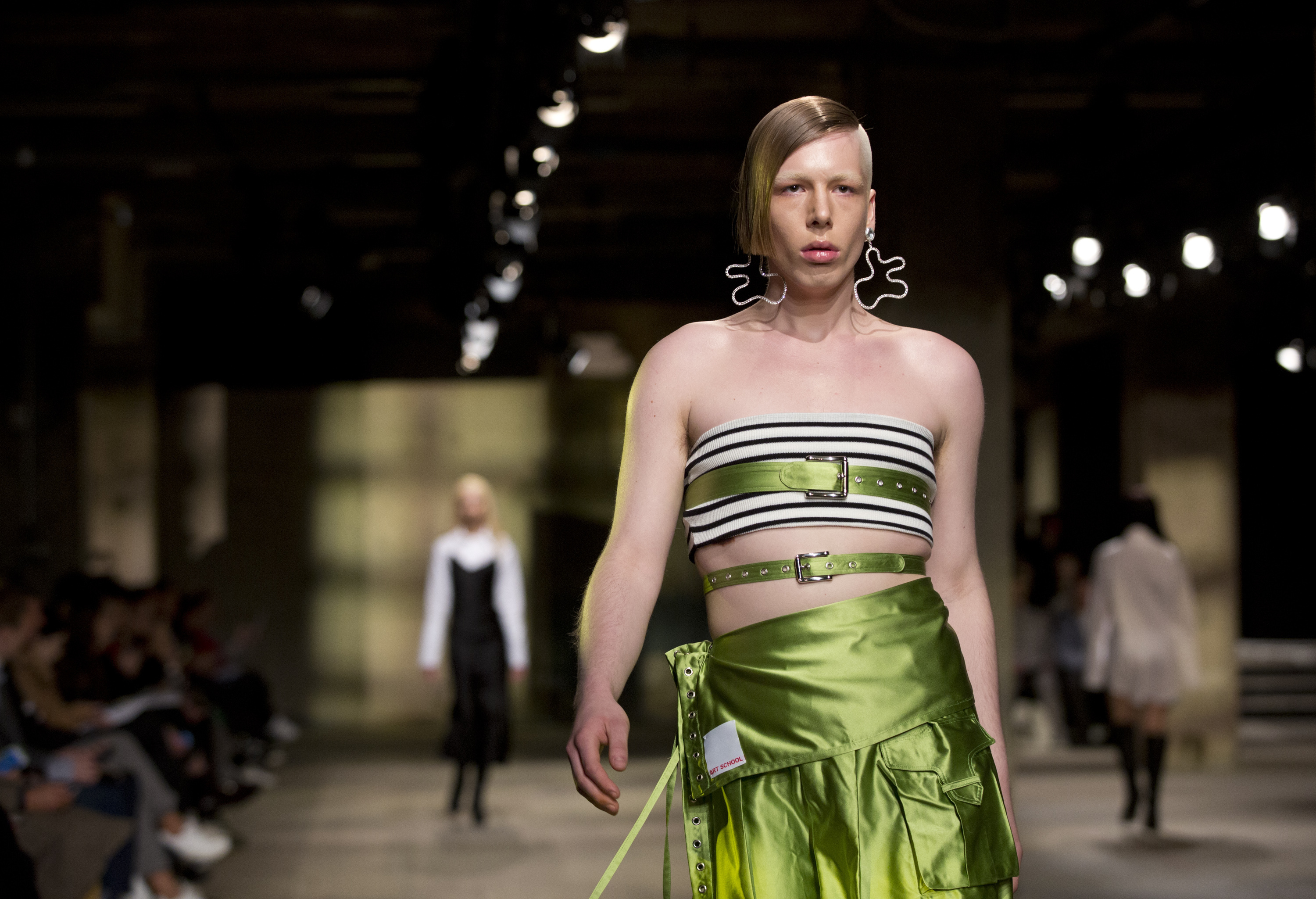 (Isabel Infantes/PA)
4. Rottingdean Bazaar
Next up, Rottingdean Bazaar's ode to all things British gave us this dartboard and rug skirt combo. Accessorised with an electrical extension cable, it brings a new meaning to the term 'double top.'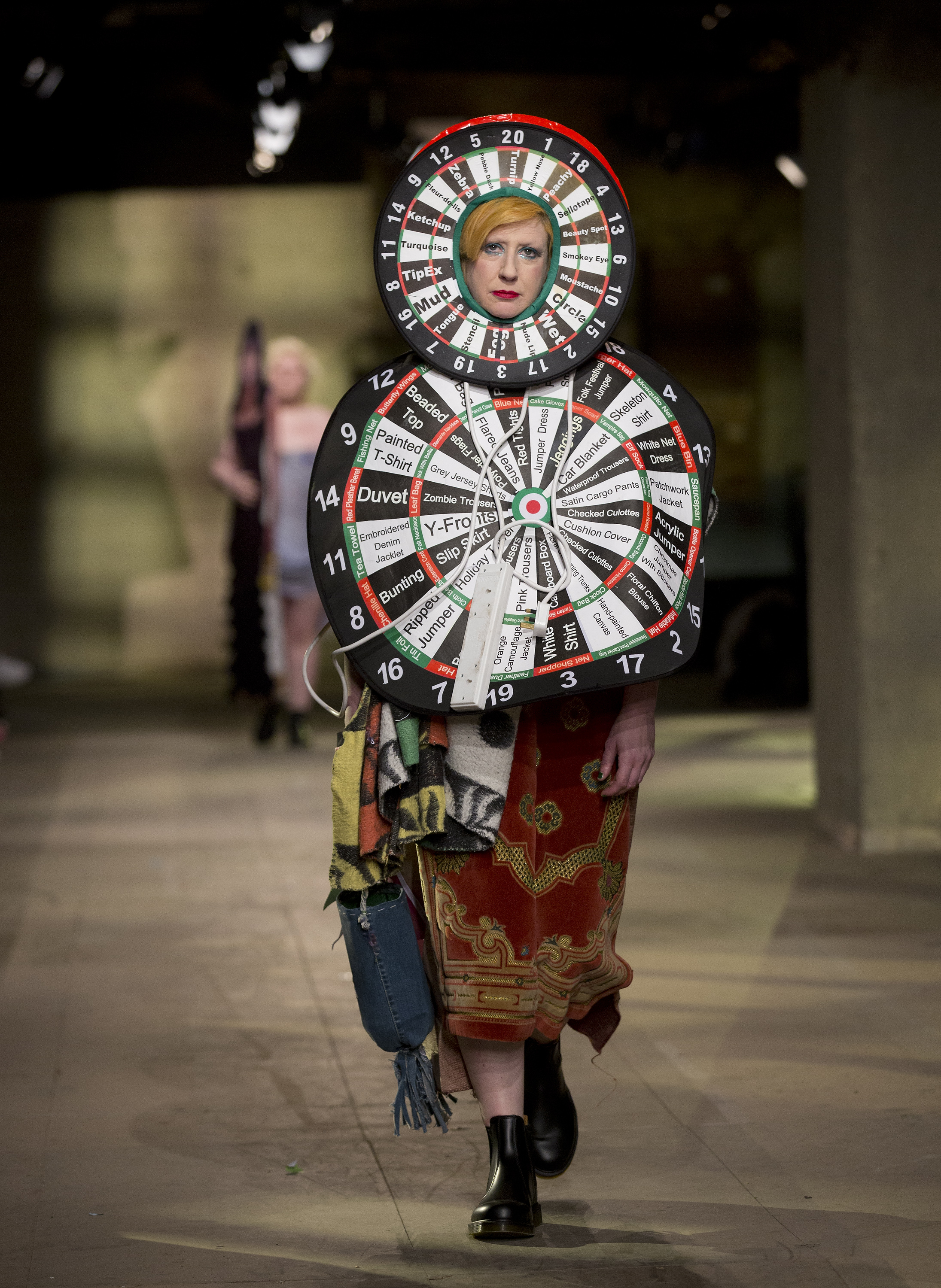 (Isabel Infantes/PA)
5. Stefan Cooke
Stefan Cooke delivered a collection which took traditional menswear codes and tore them up, almost literally, like this holey cricket jumper.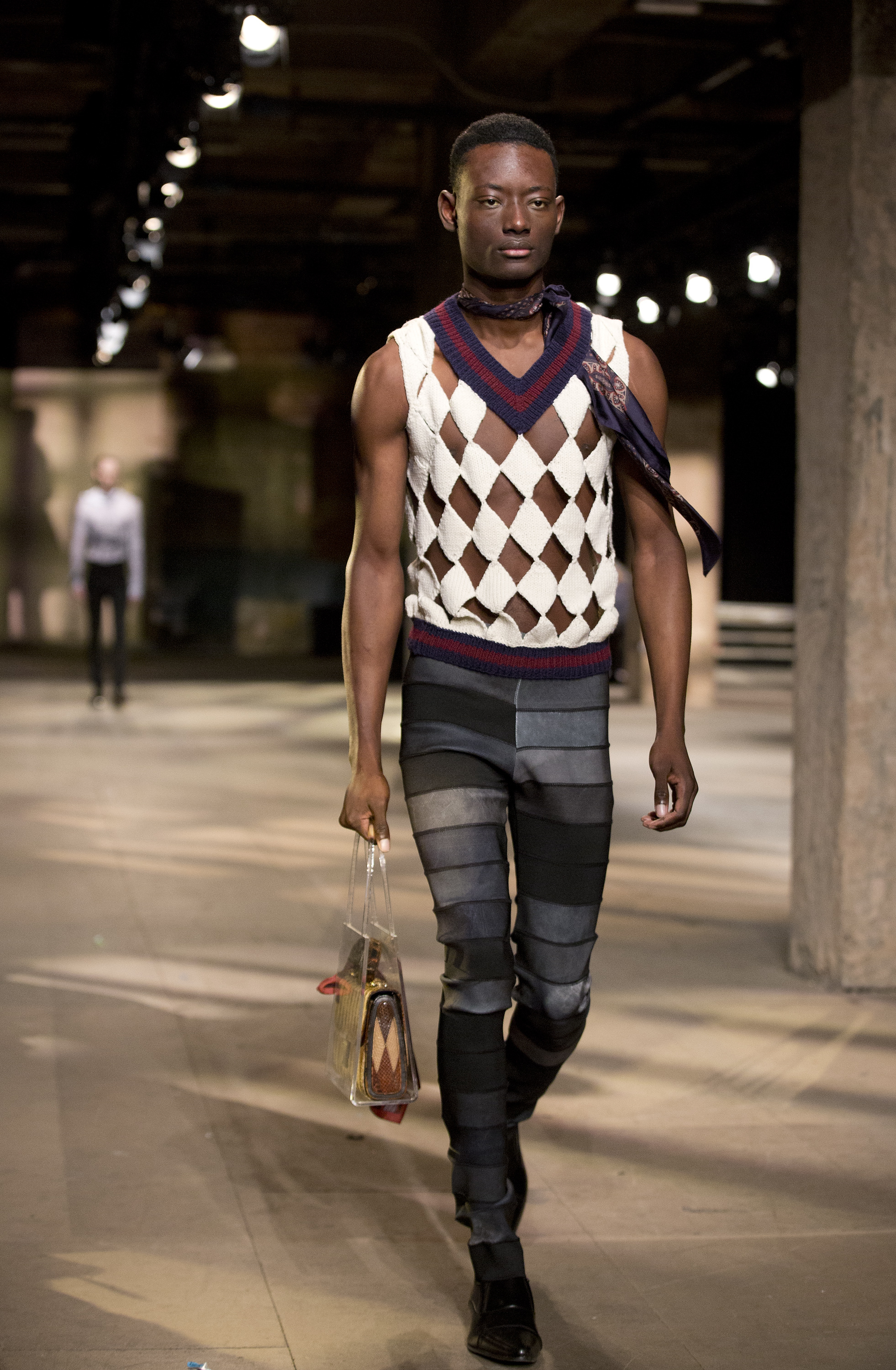 (Isabel Infantes/PA)
6. Tourne de Transmission
You know that one annoying guy at every festival who plays his bongos morning, noon and night? He's totally on-trend now, according to Tourne de Transmission, where a see-through lace top was paired with a mini bongo drum hanging from the model's belt.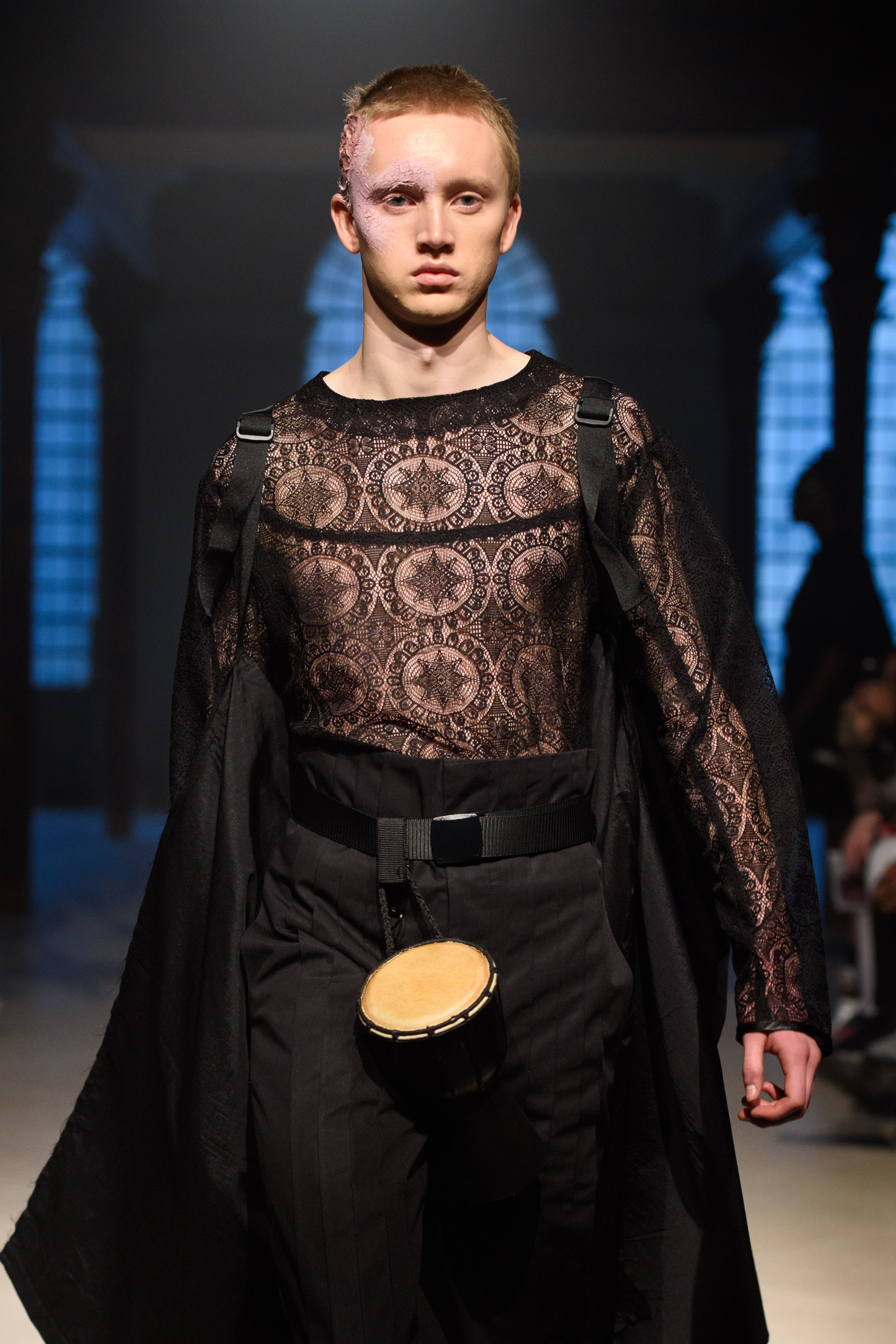 (Isabel Infantes/PA)
7. Astrid Andersen
It was all about layering at the Astrid Andersen show, and looks like this, which combine satin check trousers, a bright-blue puffa jacket, a cowboy hat and trainers. Obviously.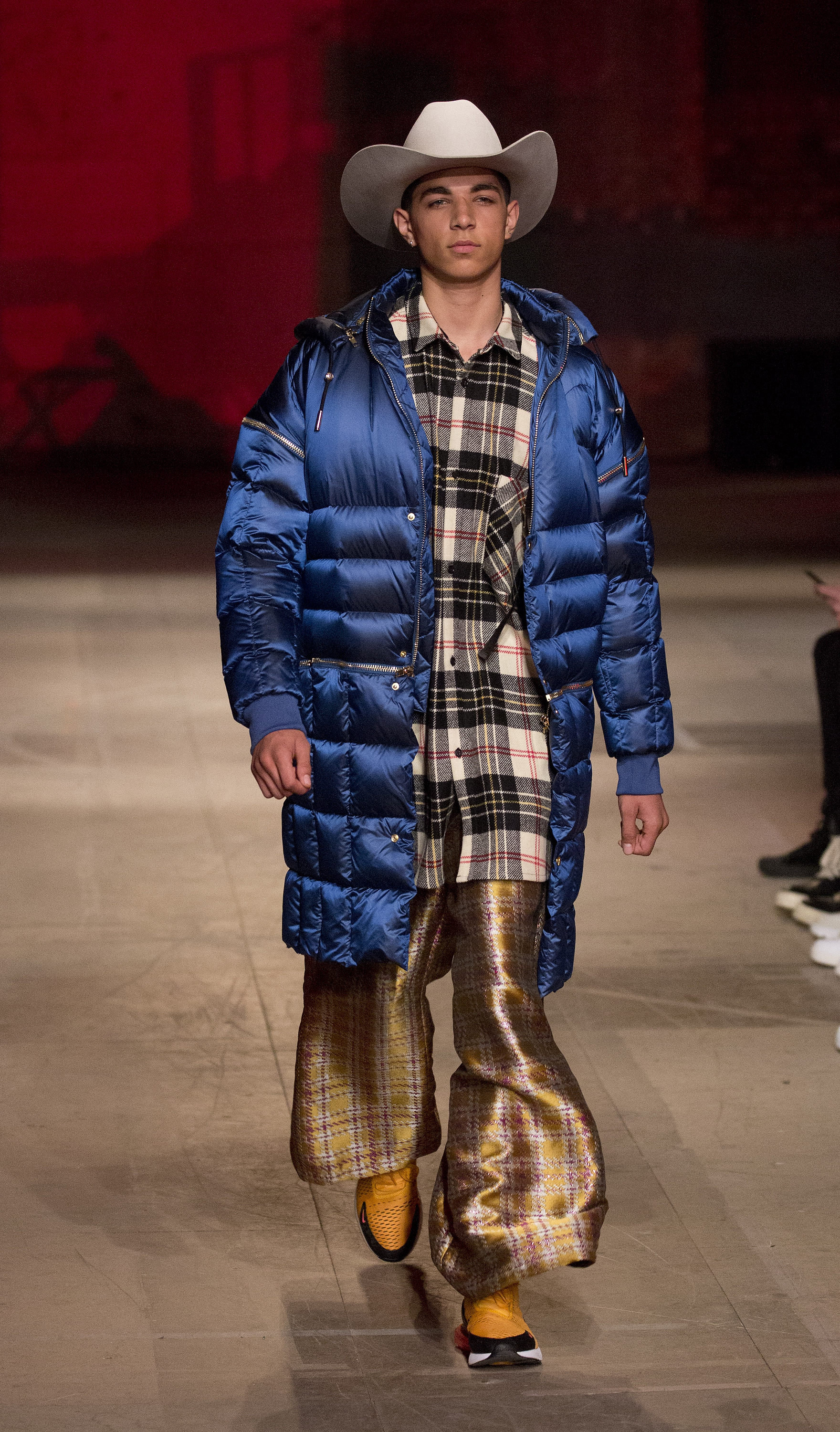 (Isabel Infantes/PA)
8. Astrid Andersen (continued)
The Astrid Andersen catwalk also brought us this charming tracksuit and dressing gown ensemble, topped off with what can only be described as a plaid gimp mask.
(Isabel Infantes/PA)
9. John Lawrence Sullivan
We've all been there; standing in front of the mirror facing the agonising decision of whether to wear your classic blue jeans or your black leather trousers. Well, now you don't have to choose, because John Lawrence Sullivan has created a pair that's 50% of each. Genius.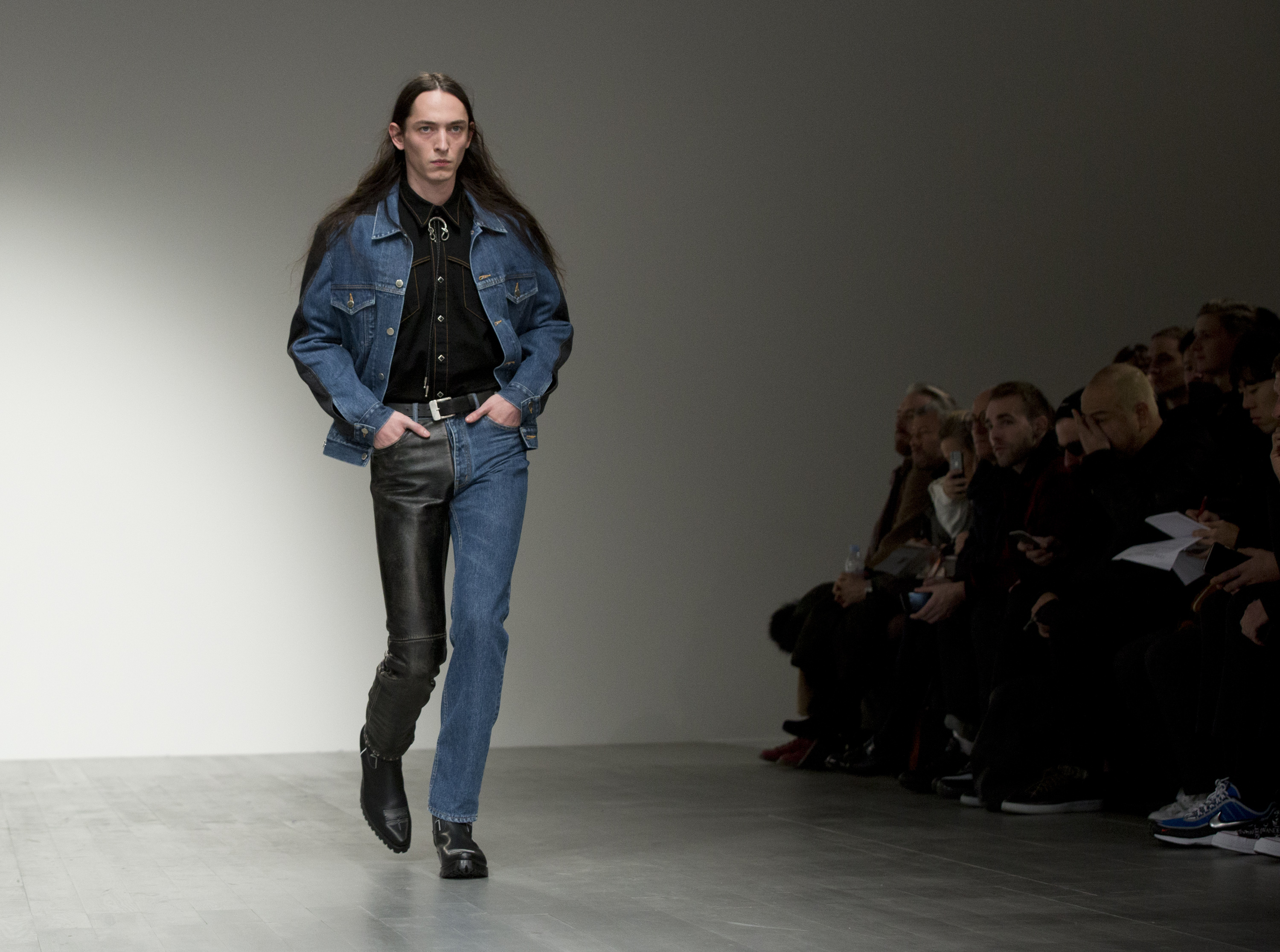 (Isabel Infantes/PA)
10. Liam Hodges
Compared to some of the eye-popping clothes at the London men's shows, this Liam Hodges smiley-printed denim jacket is nothing to write home about, but the neon splodge on the model's head? Now THAT is a strong look.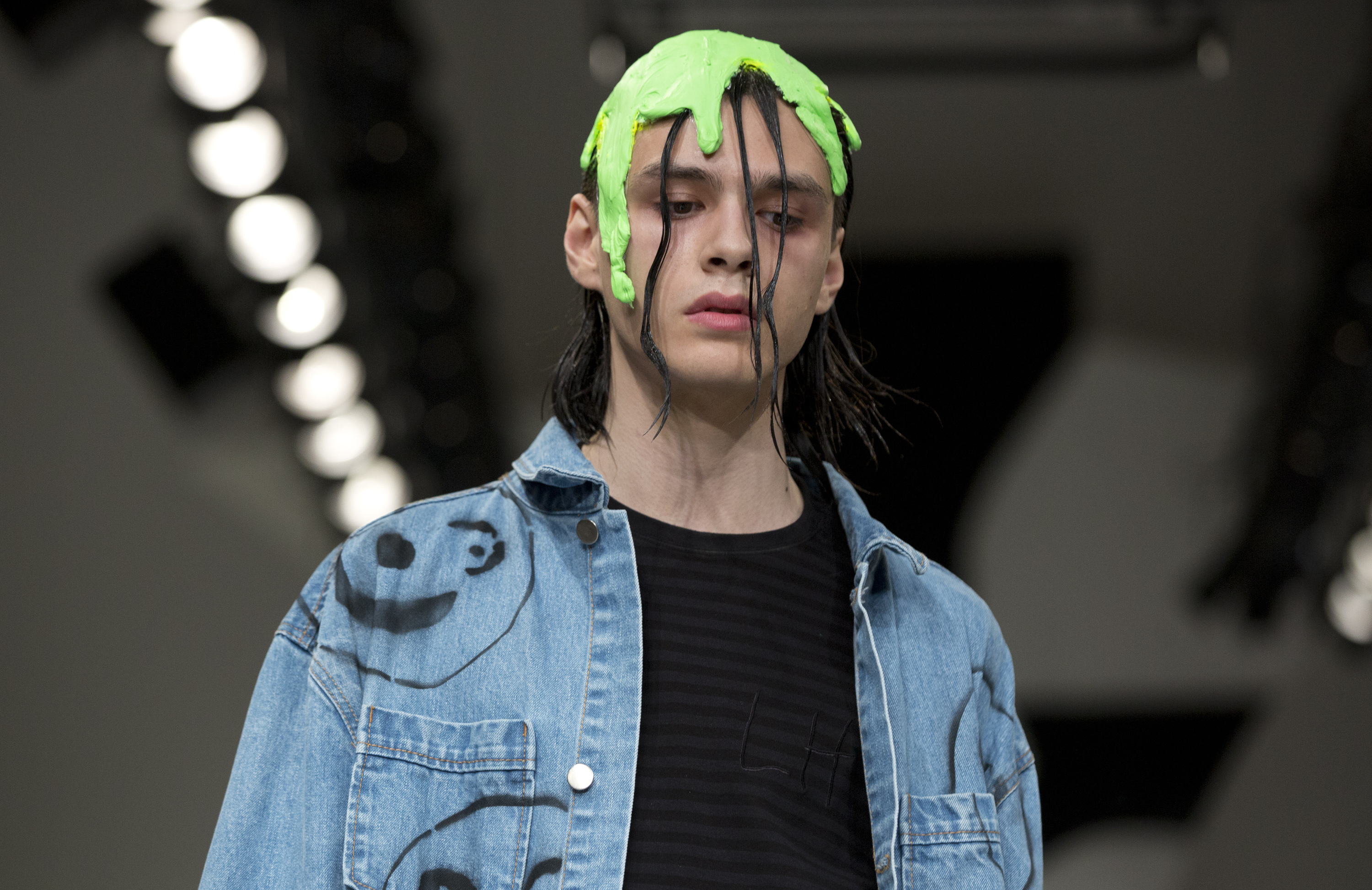 (Isabel Infantes/PA)
11. Charles Jeffrey
It's hard to single out just one look from the Charles Jeffrey show, because it was packed with garish (but exceedingly inventive) garments from start to finish. If we did have to pick, this giant sandcastle headpiece just about takes the crown…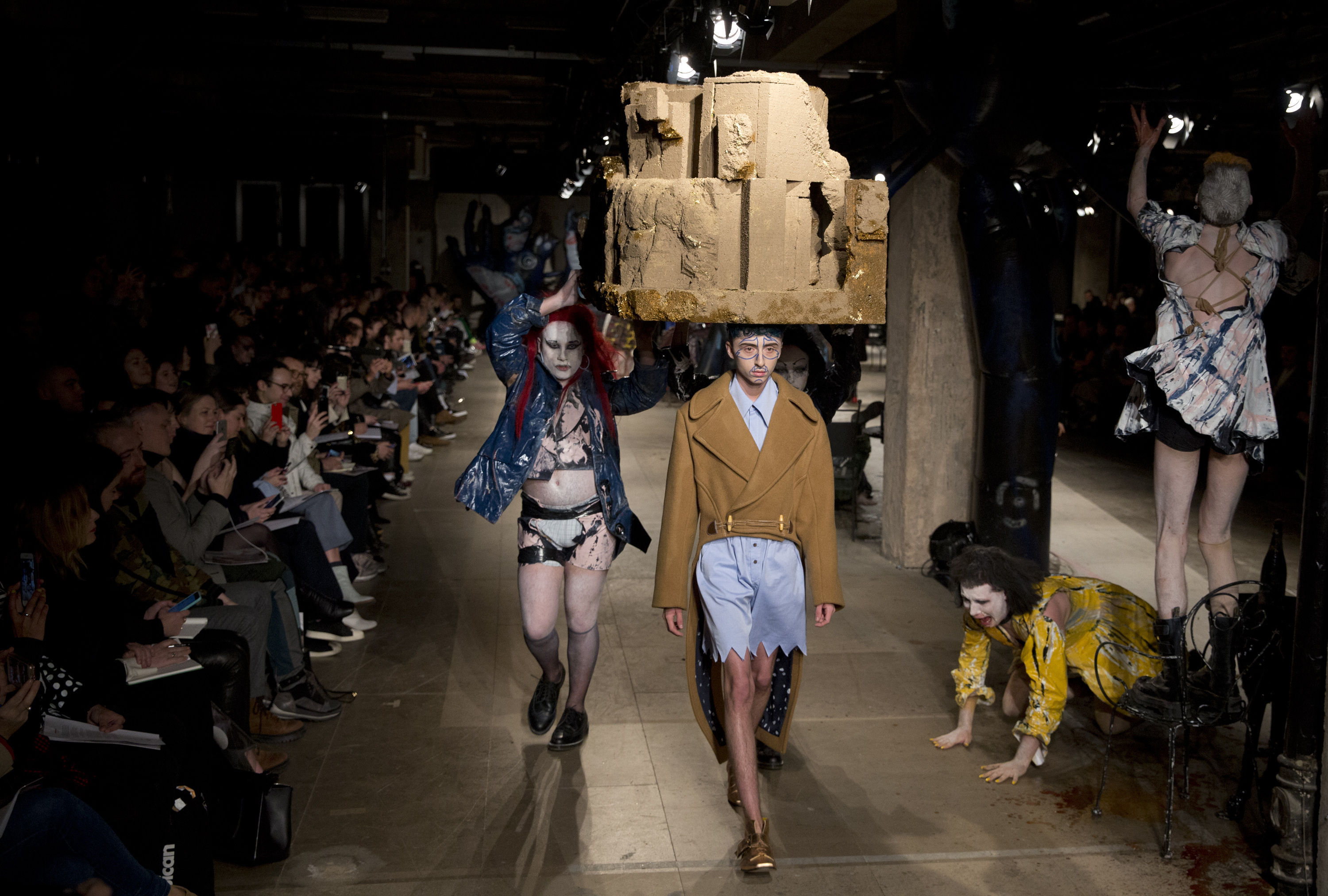 (Isabel Infantes/PA)
12. Pronounce
Look, we know that Pantone has declared the Colour of 2018 is Ultra Violet, a very bright purple, but this shiny, vivid violet look on the Pronounce catwalk is a step too far.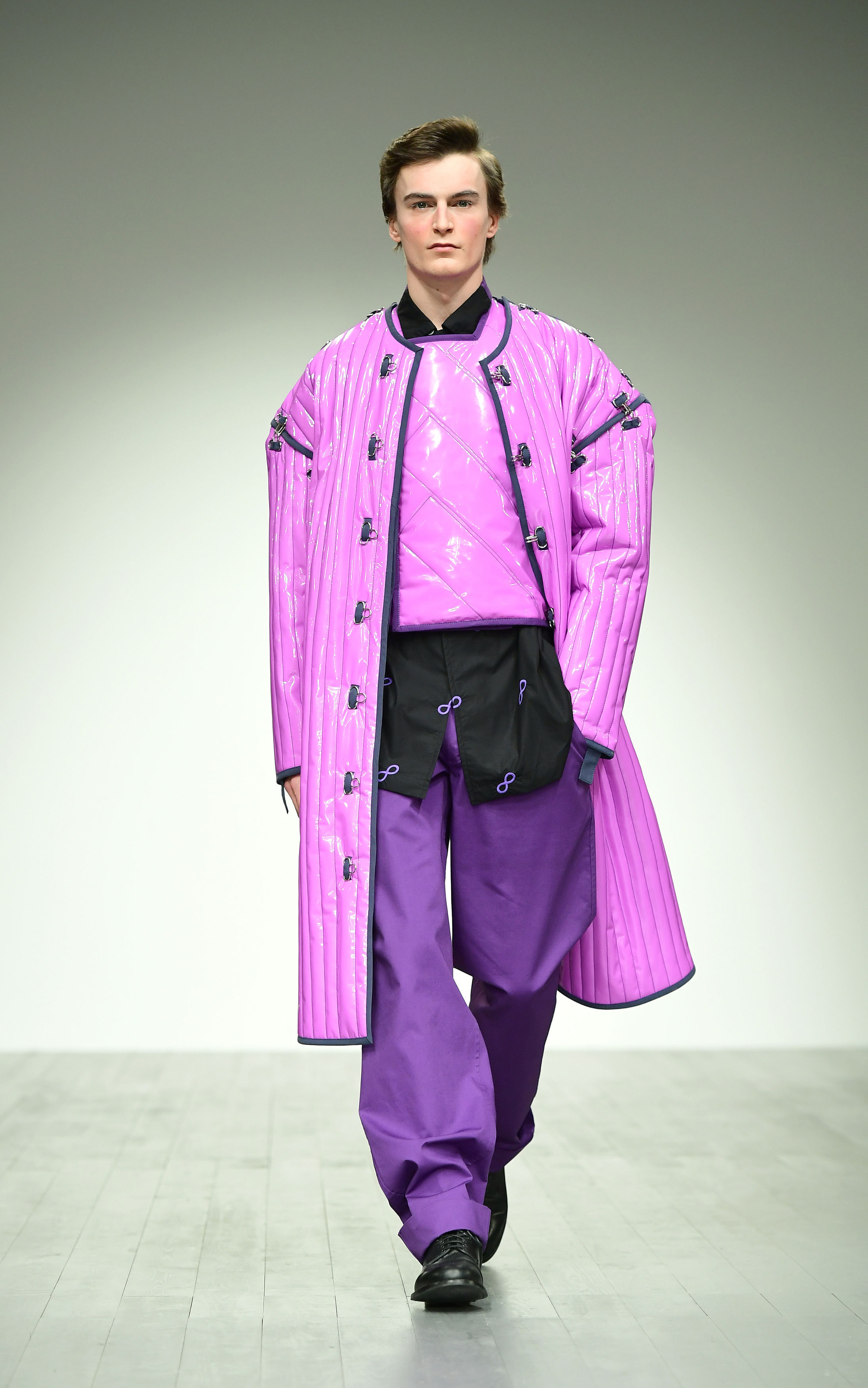 (Ian West/PA)
13. Blood Brother
Are they dungarees? Salopettes for skiing? We're not sure, but the black all-in-ones on the Blood Brother catwalk teamed with a neon-yellow zip top and Doc Martens are not flattering.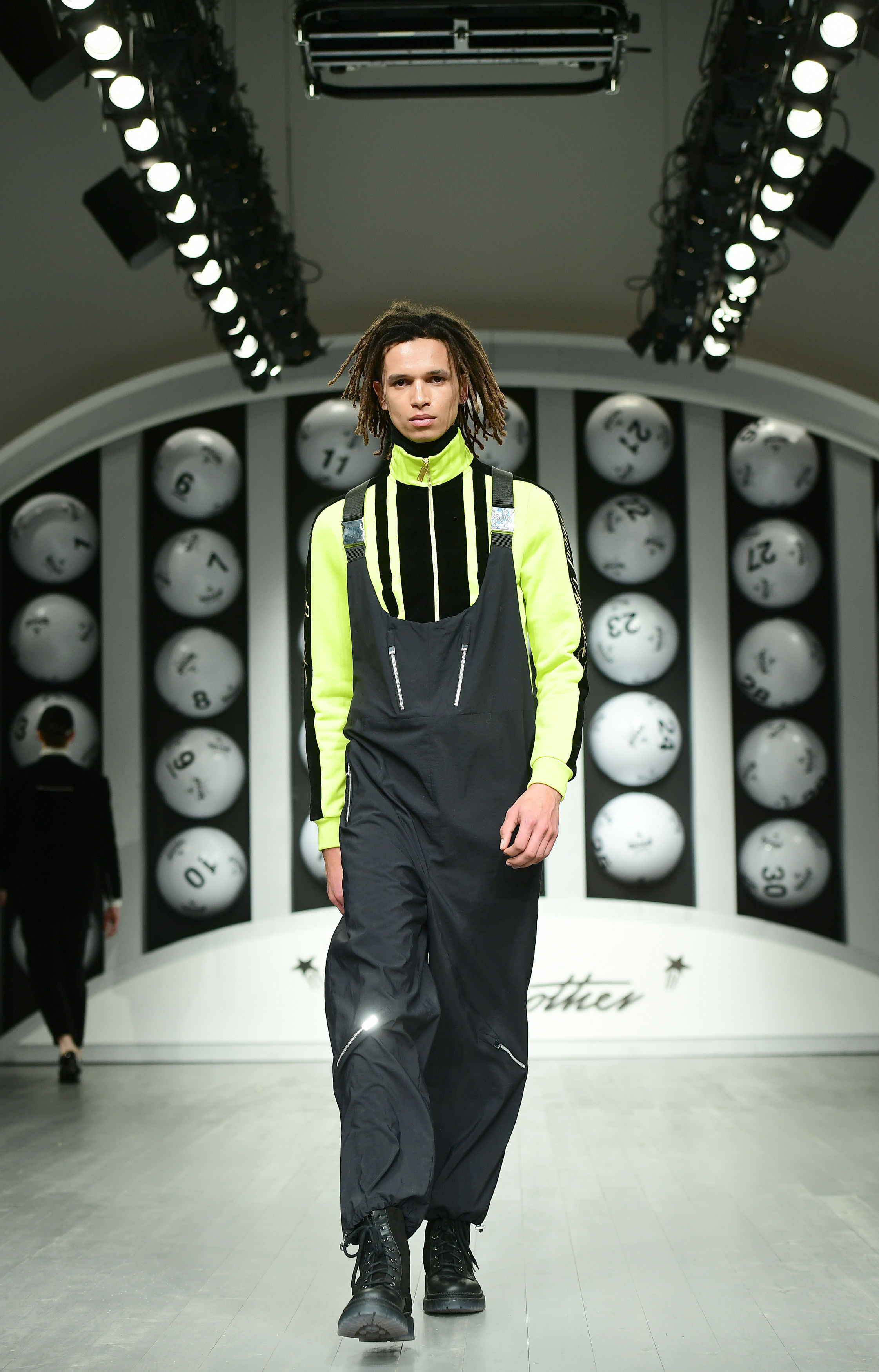 (Ian West/PA)


© Press Association 2018