9 reasons Rachel Green is our eternal style icon as Friends finally comes to Netflix UK
3rd Jan 18 | Beauty
From crop tops to trouser suits, we're delving into Rachel's greatest fashion hits.
Have you heard? Our sitcom prayers were answered on New Year's Day when Netflix announced that all 236 episodes of Friends are now available to stream in the UK.
The news may spell disaster if you've just set a bunch of New Year's resolutions that don't involve sitting in front of your TV for hours on end, but we can't wait to start binge watching.
As well as reliving classic moments like the attempt to transport Ross' couch up a stairwell and the 'we were on a BREAK' debacle, we're excited about having 10 seasons of Friends fashion to peruse and, more specifically, the wardrobe of one Rachel Green.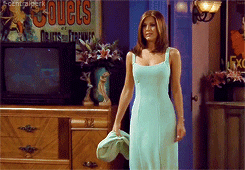 While her first appearance bursting into Central Perk in a big satin wedding dress and hideous veil may not have signalled a great start for Jennifer Aniston's character, she soon established herself as the most stylish of the show's three girls and now that Nineties fashion is back in vogue, her outfits are more relevant than ever.
So, to celebrate the arrival of the show on Netflix, here are nine reasons why Rachel will always be our most fashionable Friend…
1. Her workwear game was strong
As Rachel worked her way up through the fashion ranks, her office looks got better and better, but we'll always have a place in our hearts for the double-breasted trouser suit she wore when she landed her first job post-Barry. 2. She rocked a white T-shirt like no one else
Snug-fitting, cap-sleeved and with a deep V-neck, the tight white tee was a staple during Rachel's waitressing years, and it still looks good now.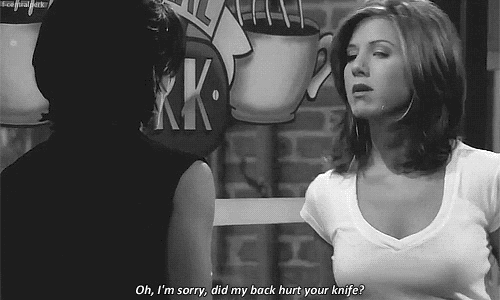 3. Her collection of crop tops was never ending
From short sweaters paired with high waisted jeans to the famous red cheerleader costume, crops top were another Green signature and we loved them all.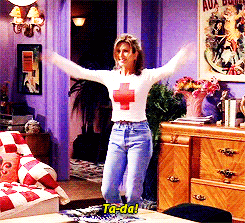 4. She preempted the return of hair jewellery
OK, so the fluffy lavender crop top and leopard print trousers in alternate-reality episode The One That Could Have Been are questionable to say the least, but given the resurgence of hair jewels in recent years, Rachel's diamante-accessorised 'do suddenly looks very on-trend.
5. Her denim was always on point
Say what you will about the Noughties bootcut era, we'd steal Rach's early season ripped acid wash mom jeans and dungarees in a second.
6. She taught us how to style polo necks a million different ways
From the short sleeved white top in the opening credits, to the luxurious cashmere knits in later seasons, Rachel Green was a firm believer in the power of the polo neck, and we salute her for it.
7. She had a strappy top for every occasion
Whatever the season or the event, Rachel's seemingly endless supply of strappy tops saw her through parties, dinners, dates and everything in between.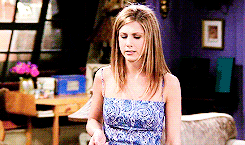 8. She was a pioneer of the bandeau dress
In the late Nineties, practically every formal occasion on Friends saw Rachel wearing a strapless fitted dress and it always gave us major outfit envy. No wonder, then, that the boob tube dress is now back in a big way.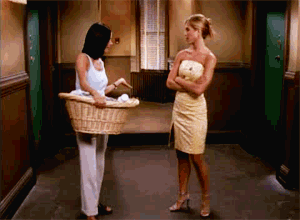 9. Even terrible trends looked good on her
Baggy dungarees? Plaid trousers? A lime green wool twinset? None of these fashions should have looked good on anyone, but somehow, Ms Green pulled them off.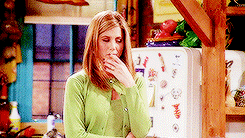 © Press Association 2018