Tinie Tempah encourages young people to embrace their own destiny
7th Oct 17 | Entertainment News
The rapper talks grime music and inspiring young people.
Tinie Tempah has urged young people not to rely on any "person, government or parents" to shape their future.
The 28-year-old rapper, whose real name is Patrick Okogwu, grew up on a council estate in south London and said he never wanted to "leave my destiny in anyone's hands".
Tempah joined a host of world leaders as a guest speaker at the One Young World summit in Bogota, Colombia.
Talking after his speech, he told the Press Association he was "not sure" whether the UK Government was doing enough to foster an entrepreneurial spirit among youngsters.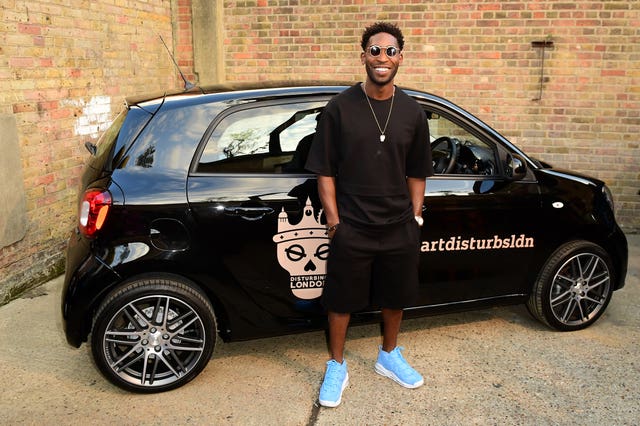 He said: "For me, if I'm being honest, when you're from humble beginnings, I grew up on a council estate in south London, I wasn't really aware about what the UK Government could do for me or not, that's just the honest truth.
"That's just not where your head is, your head is just thinking how do I survive and how do I overcome the situation I'm in now.
"Not to say it's the worst situation, but you want to do better for yourself. I always saw it that, because of our situation, we were behind and so we had a lot of catching up to do.
"So, to be honest, I don't know whether they are doing enough or not, all I know is I've never wanted to leave my destiny in anyone's hands and I don't think anyone should.
"I don't think anyone should rely on any person or government or any parent to a certain degree for your future, because at the end of the day your destiny is your own destiny to live out."
The songwriter and rapper also praised Labour leader Jeremy Corbyn for supporting the genre of grime music.
He said: "I think it was quite smart and quite thoughtful of Corbyn and his party to, kind of, you know offer a platform to artists from that culture and that genre because, like I said, it is the most popular genre in Britain at the moment."
He likened grime music's growing popularity in the UK to that of hip hop music and its growth into mainstream America and also spoke about the benefits of technology in bridging the gap.
He told the Press Association: "This music (grime) has been at a commercial level for at least 10 years, so you do know who Kano is, you know who Dizzee Rascal is, and these people are as mainstream or as culturally relevant as any other musician.
"If you go and match it and correlate it to how hip hop was in America, how hip hop culture is arguably one of the main influential cultures in the world.
"You could even argue that the Kardashians are inspired by hip hop culture, and you know, reflect hip hop culture in some of the things that they do."
Tempah has embraced his own entrepreneurial spirit and set up his own record and fashion label called Disturbing London. He also established another company called Imhotep.
© Press Association 2017