All the backstage tips for getting the edgy hairstyle from Richard Quinn's catwalk
21st Feb 19 | Beauty
It's a bold look that is both alien and feminine.
There's always significant buzz around Richard Quinn's London Fashion Week show – he's so popular that even the Queen has been to watch one of his presentations.
This season, we managed to sneak backstage to get some top hair tips from stylist James Pecis, who's in charge of the hair look for AW19.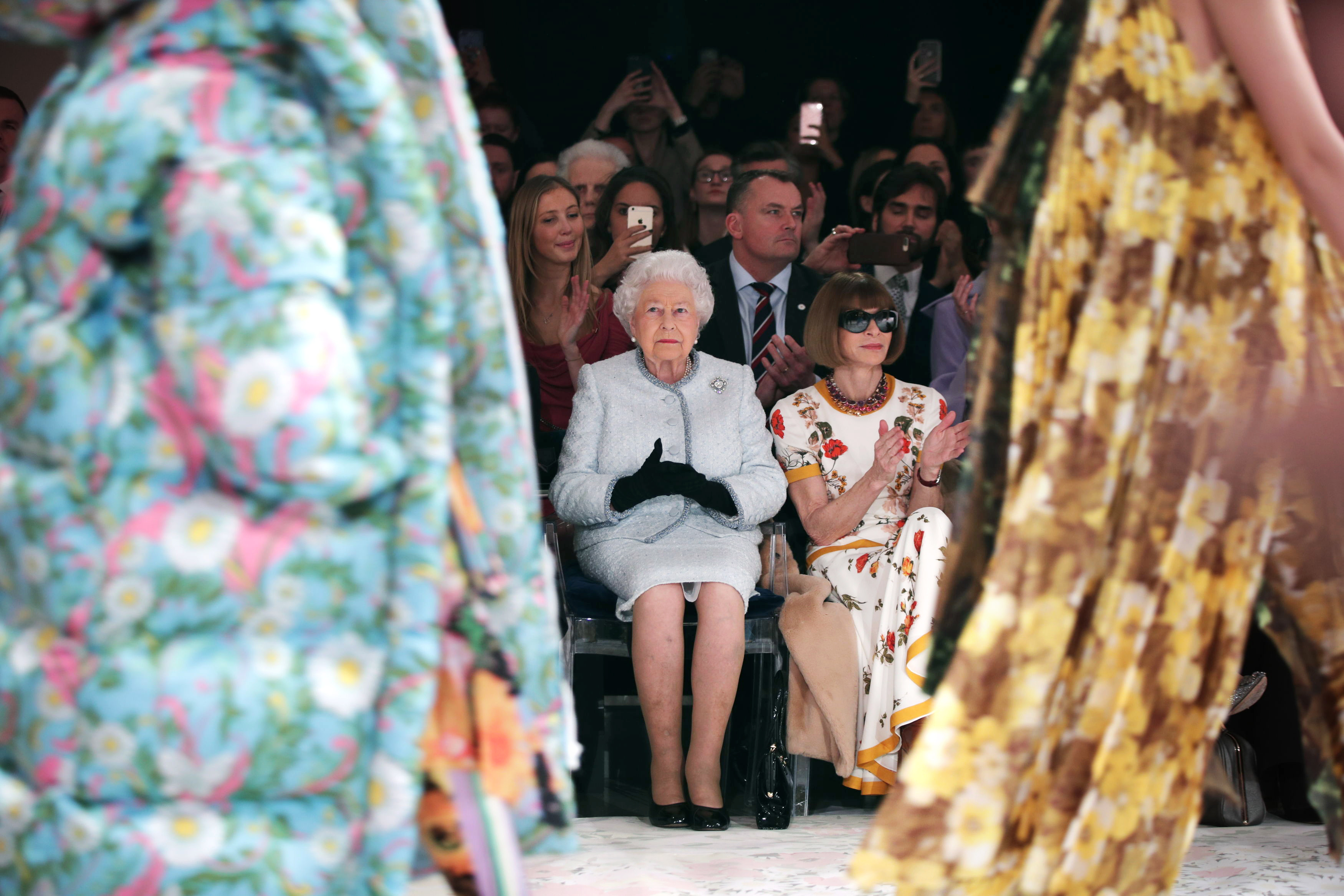 When coming up with a hairstyle, Pecis says he first considers how it will go with the outfits. "The whole idea of this collection is about the darkness underneath, so the models are wearing a lot of black latex underneath beautiful gowns which are bright and colourful," he explains.
Pecis put a lot of thought into what he was going to style for the show, but he had to scrap it all at the last minute. "There was a show yesterday that was too close to our original look," he groans. "So we had to shift gears. Instead of knowing the look we had to get here early, talk with the stylist and renavigate what the look is for the show. It's frustrating, but that's life."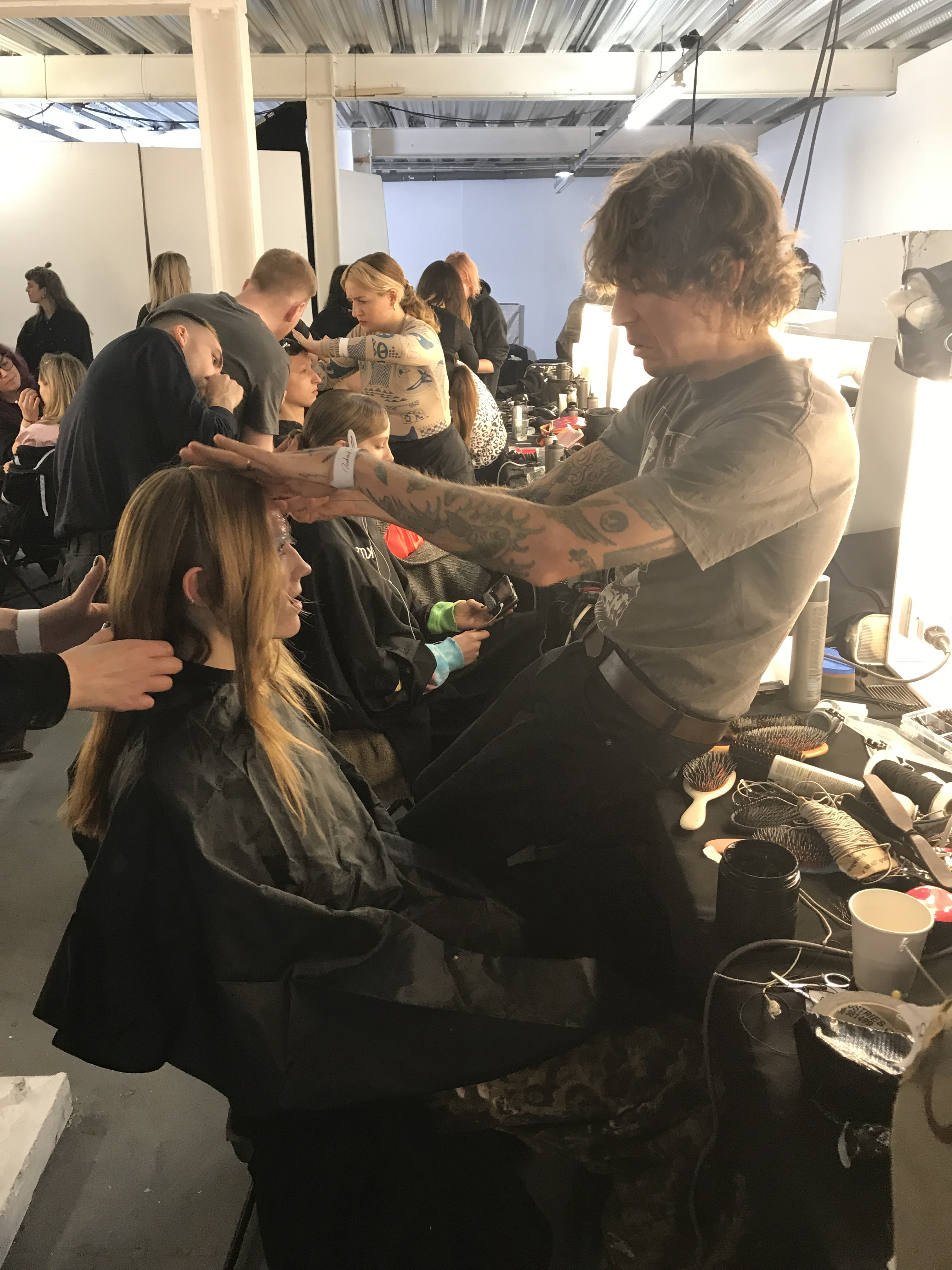 Now, we're not pointing fingers, but we're pretty sure the show in question was yesterday's JW Anderson, where models had hair slicked across their faces in waves.
It doesn't matter because Pecis came up with a look that's just as sleek, but even more alien to play off the clothes. "What we're doing instead is saturating the hair with mousse and sectioning it off ear-to-ear. We're leaving a point in the middle – the hair's then pulled back into a low ponytail and then we add a layer of gel over the top," he explains.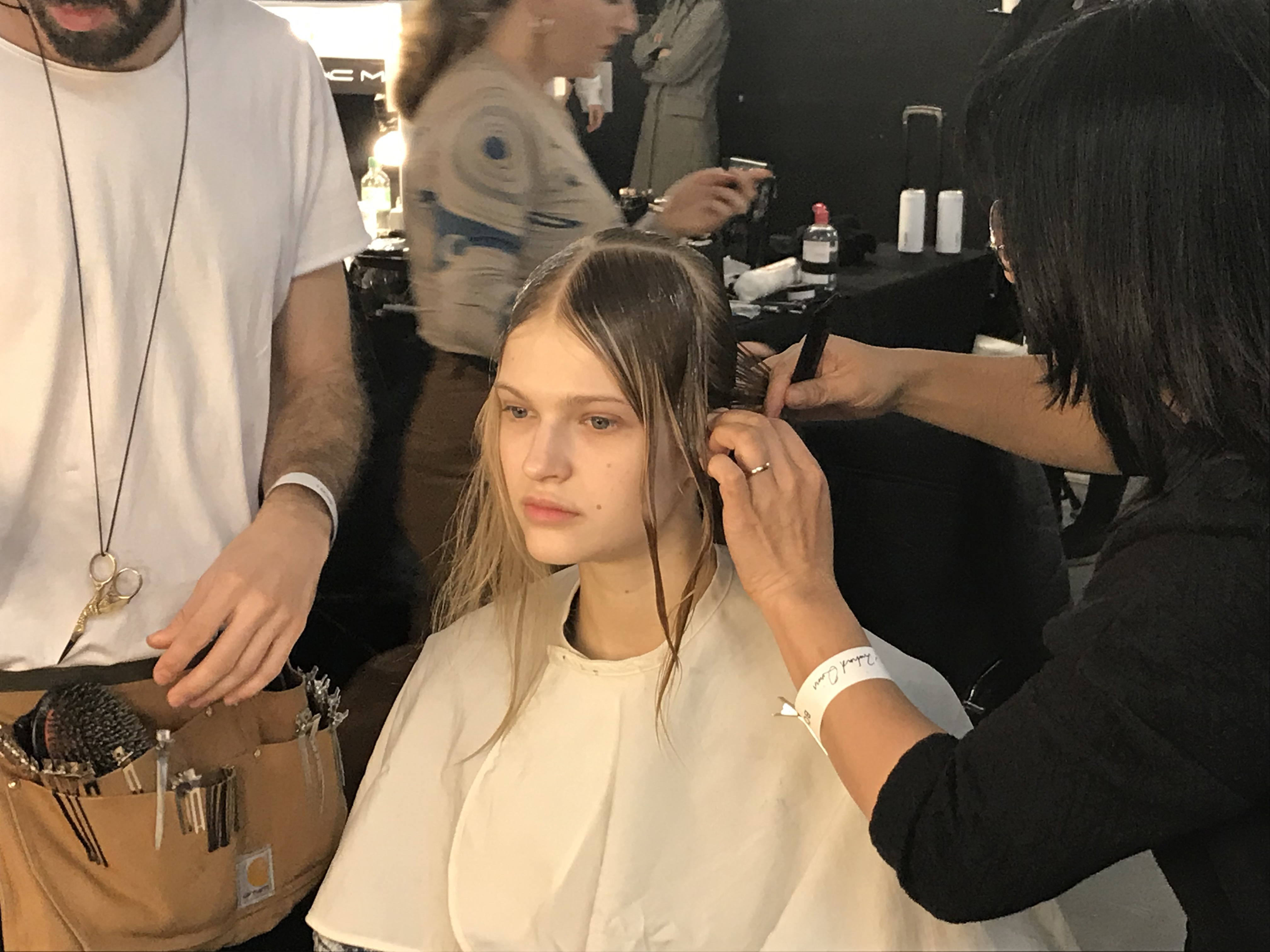 Once you've got the basic shape in place, it's all about getting the hair to look as pristine as possible. Pecis's tip for this? "Once the gel is on we use either the end of a tail comb or a hand to press it in, so we make it look more glassy instead of combed," he says.
The main difference to the previous look is a lack of waves. "It's very angular, the hair's been pulled down almost like a fringe. The key is gelling the strands down as straight, symmetrical and angular as you can."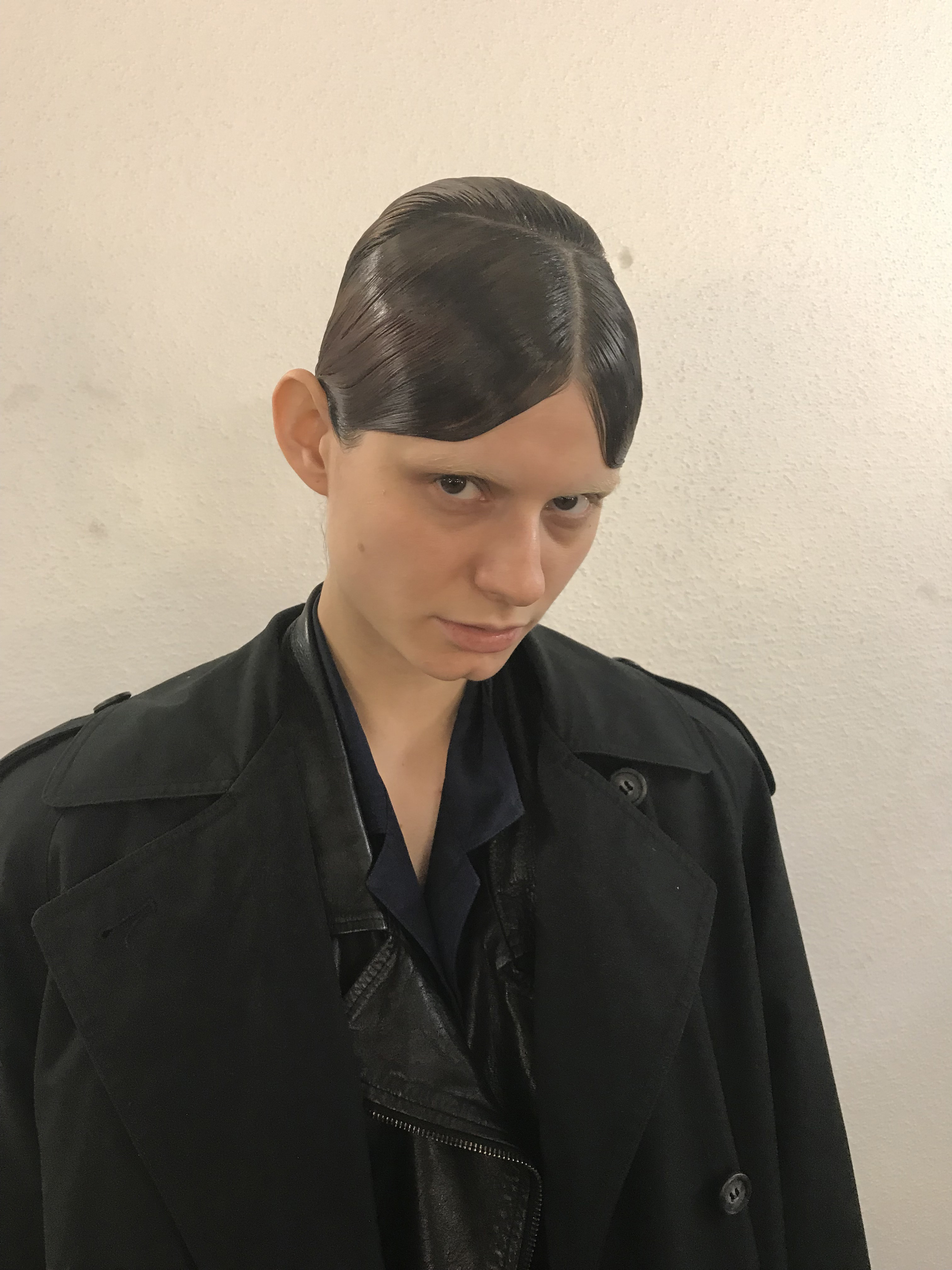 To round things off, the hair is pulled back into a chignon, but the main focus is obviously those fringe-like curtains at the front. If you're brave enough to try out this look yourself, don't be scared of the main ingredient – as Pecis says: "The key product here is the gel." He was using KMS products for the style, including the Hairplay Styling Gel (Look Fantastic, £13).
The bold look is rounded off by bleached eyebrows, so the harsh hairstyle is really a stand-out.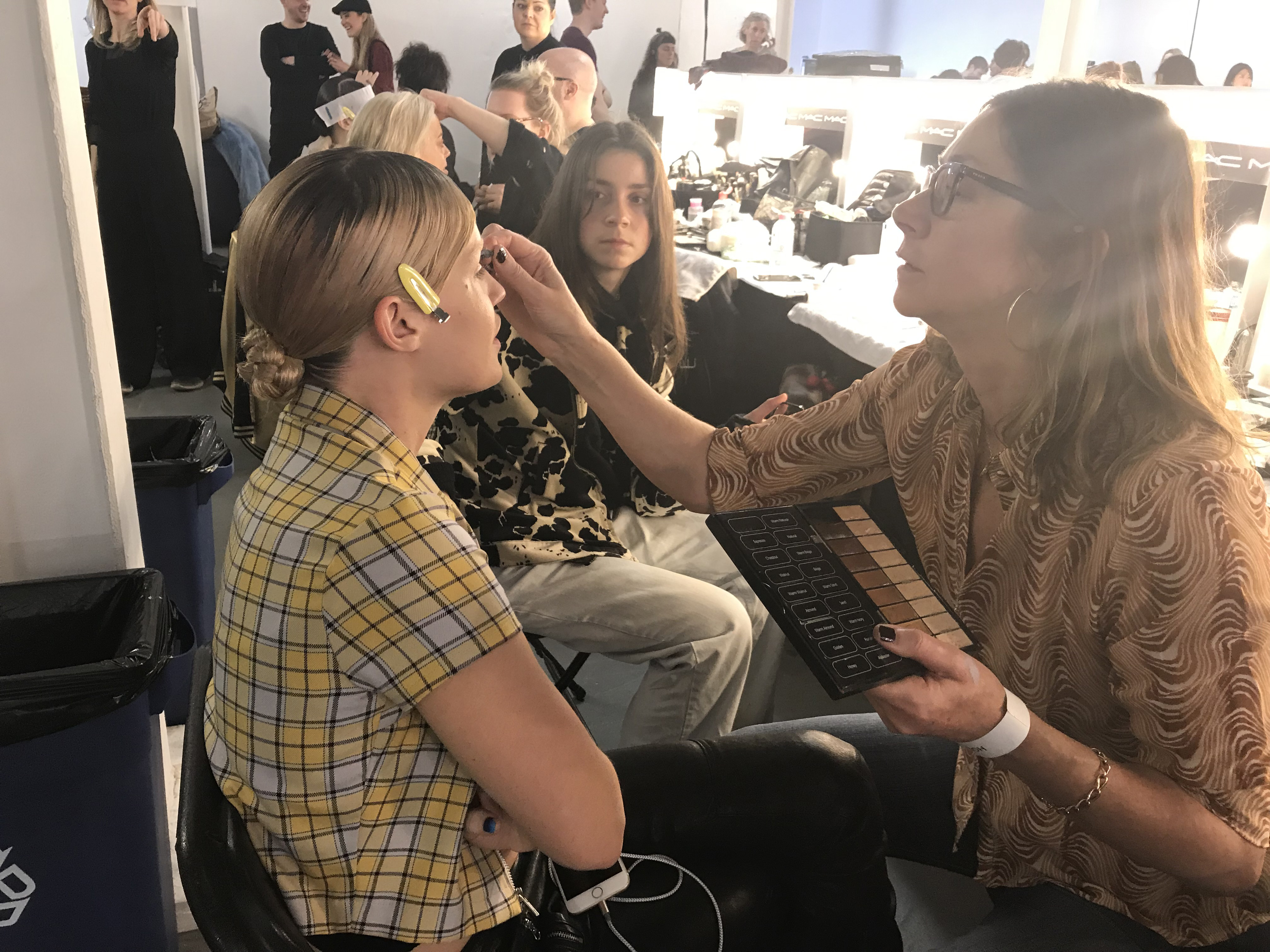 Unfortunately, due to the recent news of fashion giant Karl Lagerfeld's passing, there were few conspicuous absences from the front row – like Anna Wintour, who was scheduled to attend. Luckily, Quinn had more than enough star power on the catwalk to make up for it, with the likes of Adwoa Aboah and Georgia May Jagger modelling his latest designs.
© Press Association 2019