Why every member of the Queer Eye cast is a style icon
18th Sep 18 | Fashion
The Fab Five are certainly not afraid of sartorial experimentation.
During most awards shows, no one pays much attention to what the men wear. Let's be honest – women's outfits tend to be far more interesting than the samey suits worn by male celebs.
However, this wasn't the case at Monday night's Emmy Awards, thanks largely to the cast of Netflix show Queer Eye.
In case you haven't yet had a chance to catch it, it's a reboot of the classic Noughties show Queer Eye For The Straight Guy. In it, the 'Fab Five' – Antoni Porowski, Tan France, Bobby Berk, Jonathan Van Ness and Karamo Brown – help people makeover their lives.
This involves more than just refashioning someone's wardrobe. Instead the guys help their subjects feel better about themselves and tackle the issues holding them back (there are regularly tears) – hence why it's become so wildly popular.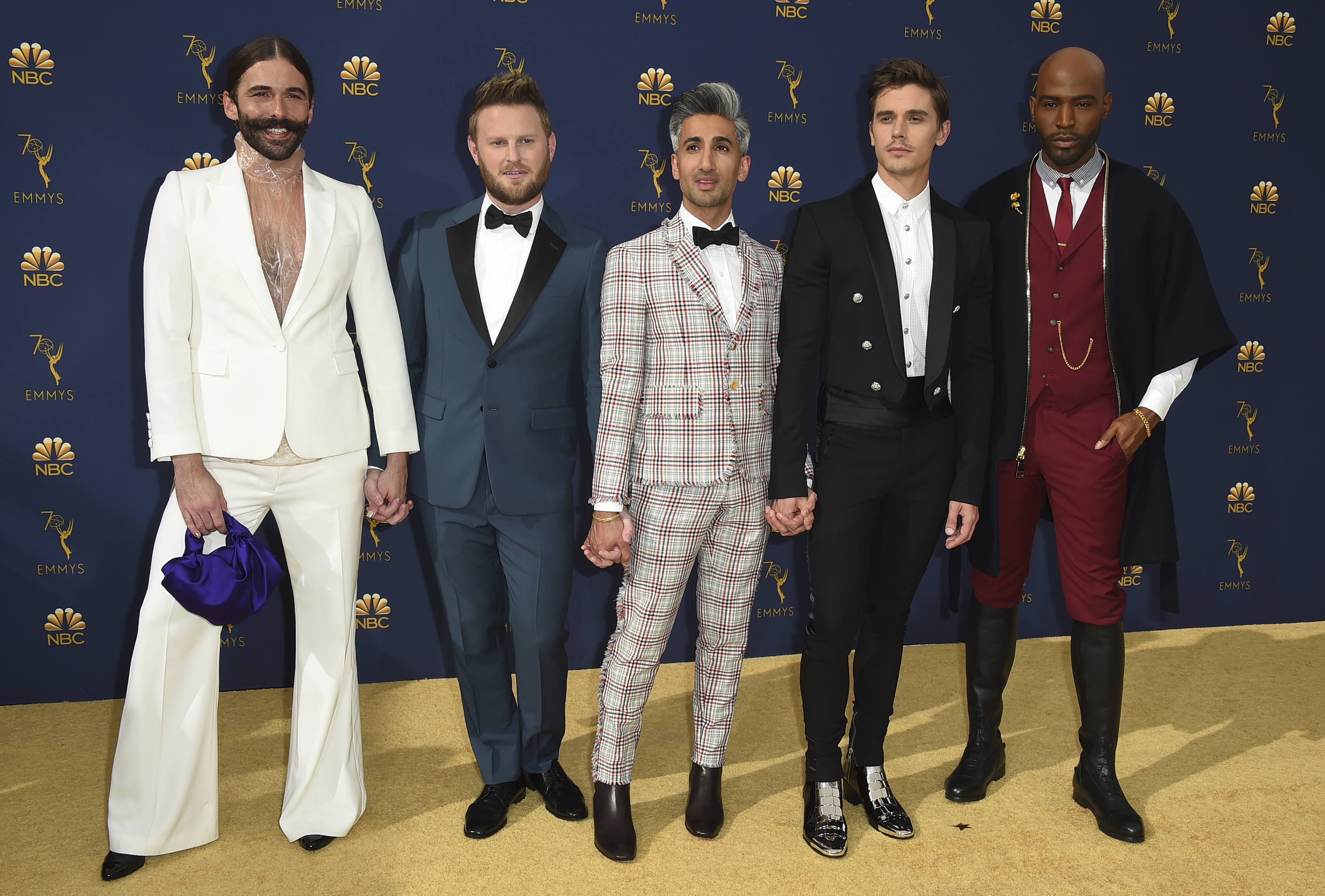 At the 70th Primetime Emmy Awards the boys certainly dressed for the occasion. Van Ness wore a wide-legged white trouser suit over a see-through turtleneck with a purple statement bag; Berk sported a dapper blue suit; France wore a frayed edge tartan combo; Porowski was in a tux with chrome Balmain shoes; and Brown went for what can only be described as 'horseriding chic' – serious props for the dramatic cape that went with it.
All in all, the quintet served some serious looks – and this is by no means the first time they've done so.
Jonathan Van Ness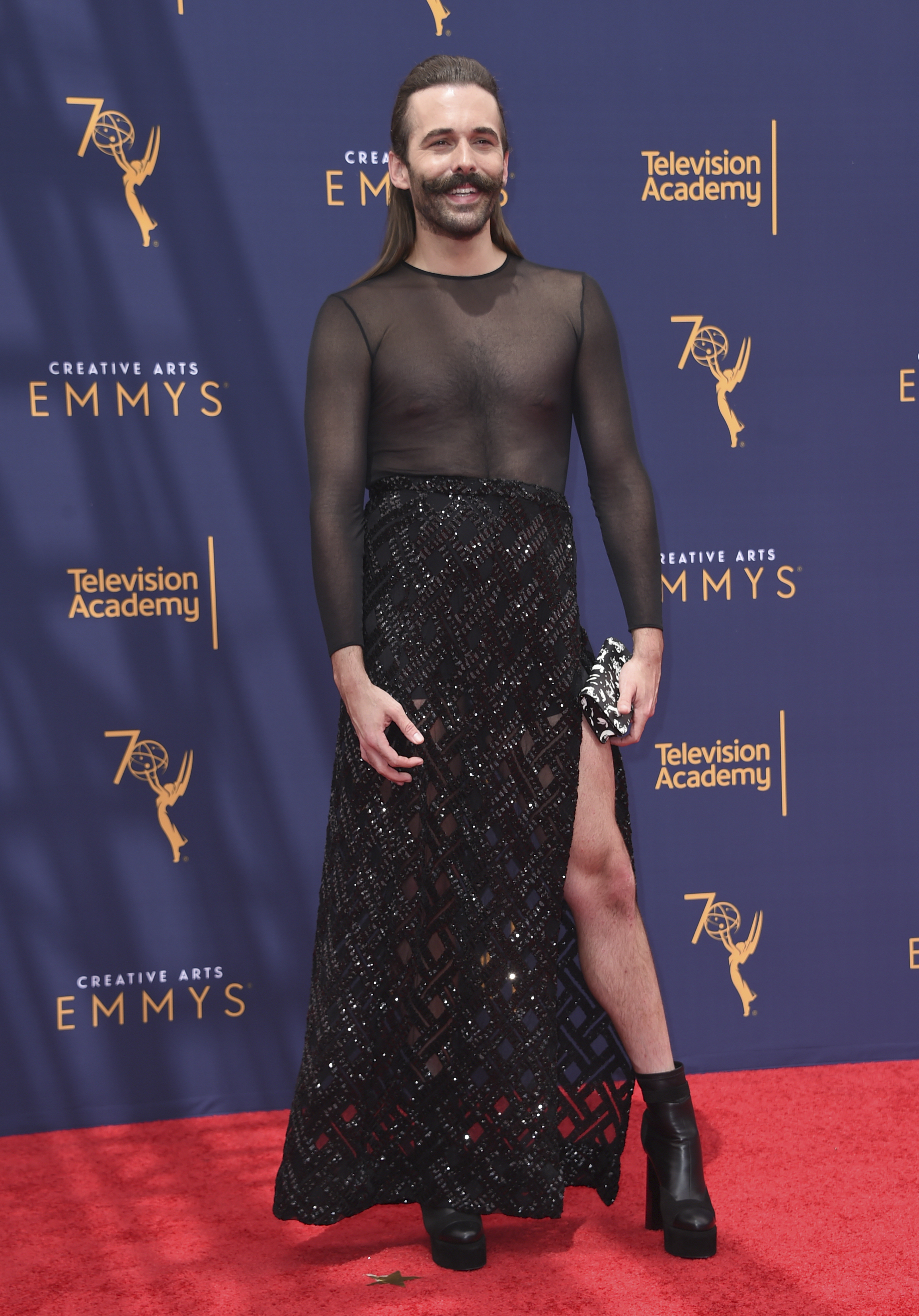 Van Ness is definitely the most experimental dresser of the bunch. He's paving the way for men wearing dresses and heels, with a style that's refreshing and bold – and it probably helps that he's infectiously joyous.
Van Ness is unapologetically himself, rocking short shorts and leopard print boots, and he loves a crop top. On the show, he's won over the hearts of even some of the most conservative men in America, most of whom are unlikely to have met anyone who dresses quite like him. As Queer Eye's hair and grooming expert, Van Ness is also the proud owner of a long, glossy mane and, currently, a very swish moustache.
Bobby Berk
There's no denying Berk is sartorially the safest of the Fab Five – but who wouldn't seem low-key next to capes and sheer blouses? As the design expert on Queer Eye, he arguably does the most work of the group completely redoing people's homes.
In terms of style, he's more muted than the rest, but his appreciation for jazzy shirts and patterned shorts shouldn't go unnoticed.
Tan France
France is the sartorial guru, so you can be sure he brings it when it comes to fashion. He's behind popularising the French tuck – where shirts are tucked into the front of your trousers and left loose around the back. Think of it as a shirt version of the mullet: Business at the front; party at the back.
When it comes to his own style, France is perennially sleek and bang on trend – think cropped trousers, patterned boiler suits and matching shorts and t-shirt sets – all with his signature silver quiff.
Antoni Porowski
If you watch Queer Eye and can't remember a thing Porowski's worn, it's understandable – it's easy to get lost in his dreamy eyes. He's a fan favourite on the show, even though not all are convinced he does much as the food and drink expert. Let's just say, Twitter disputes whether grilled cheese sandwiches or putting together avocado and grapefruit salads actually constitutes cooking.
However, in the kitchen or not, Porowski is likely to be wearing a slogan tee. He introduced many viewers to Hanya Yanagihara's novel A Little Life, wearing a t-shirt with the names of the four protagonists, Jude, JB, Willem and Malcolm.