7 fragrances that will take you back to being a teenager in the Noughties
15th Jul 18 | Beauty
Because you couldn't leave the house in 2004 without spending at least five minutes spraying yourself with Impulse.
Even though it was undoubtedly a disaster in the beauty department, the Noughties is an era we look back lovingly on.
Sure, ultra-thin eyebrows and foundation on your lips wasn't a good look, but it still fills us with pleasant nostalgia.
If you were a teenager in the Noughties, you were finding your feet in the world of beauty (which is code for trying anything that was cool because you had absolutely no idea what was going on).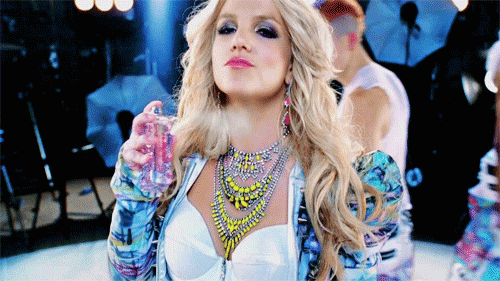 A major area of experimentation was with perfumes and fragrances. Whether it was a body spray from Superdrug, or a designer perfume that you saved up all your pocket money for, chances are you will be altogether too familiar with some of these scents…
1. Impulse
Most teenagers didn't exactly have money to burn in the Noughties, which is why body sprays were so big. Take your pick from So…? or Impulse – if Superdrug were selling it, we were buying it.
We have these sprays to thank for PE changing rooms all over the country smelling overpoweringly sweet. Unfortunately, they didn't do all that much to actually mask pubescent body odour.
2. Britney Spears Fantasy
To show our allegiance to our favourite pop stars, many of us bought their signature fragrance. Leader of the pack was Britney Spears (probably because she produced approximately a million different perfumes).
Fantasy ticked all our teenage boxes – a pink bottle enhanced with *classy* diamante studs. What could be chicer than that?
Also see: literally anything by Paris Hilton, the indisputable queen of the Noughties.
3. J Lo Glow
Jennifer Lopez's perfume was arguably one step classier and sexier than Britney's. Why? Because it had an incredibly cool diamante necklace draped around the neck of the bottle – taking things to next level bling.
The name of this fragrance was definitely on point, because what girl didn't want an early-Noughties glow, a la Lopez? Unfortunately, in our quest to replicate this tanned look, many of us turned an extremely dodgy shade of orange.
4. CK One
CK One is undoubtedly the classic. It didn't blow your budget, but it wasn't quite as low-brow as a body spray or celeb perfume. It showed that you were a sophisticated and classy lady.
The main problem? Everyone else in your class was probably wearing it too.
5. Abercrombie & Fitch Fierce
When you're a teenage girl and you actually start dating a real life boy, you obviously have to show the world in some way. You could do this by nicking your new beau's overpowering smelling cologne and spraying it all over your body.
Bonus points for bringing the bottle with you into school, so you could show off that iconic chiselled chest to all the other girls.
If they didn't have Abercrombie to hand, a spritz of the ever-overpowering Lynx Africa would do. Because apparently we thought it was cool to smell like the boys' changing rooms…
6. Davidoff Cool Water
See above – but this was your upgrade. By this time you were older and wiser and had finally dumped the Abercrombie-wearing ex-boyfriend. How did you know you'd matured? The new bf wore Davidoff Cool Water, so must definitely have been a man of the world.
If dating boys or nicking fragrances wasn't your thing, luckily there was a female version that did the trick just as well.
7. Hugo Boss Deep Red
You'd really made it if you had this perfume – it was hardly something that you could buy with some change at the bottom of your bag when you popped into beloved Superdrug (we promise this isn't an ad for the shop – it was just a really important part of our lives circa 2000-2009).
This was the fragrance that you probably didn't have (sorry), because it was reserved for the cooler, older girls. You know – the types that pierced their ears with thumbtacks from the school noticeboard at lunchtime. We could only ever dream of being that rebellious, but we also knew that our mum would have gone ballistic…
© Press Association 2018