5 street style stars at London Fashion Week tell us about their looks
20th Feb 18 | Beauty
We spoke to some of the zaniest dressed show-goers.
Whatever role you have – whether it's photographer, blogger, stylist or designer – what you wear to London Fashion Week matters.
As any influencer worth their salt knows, to keep up with the fashion crowd you need to serve some serious looks on the street.
With this in mind, we headed down to 180 The Strand – the main LFW venue – to ogle some outfits and ask the street style stars to tell us more about their looks.
1. Zokaya Kamara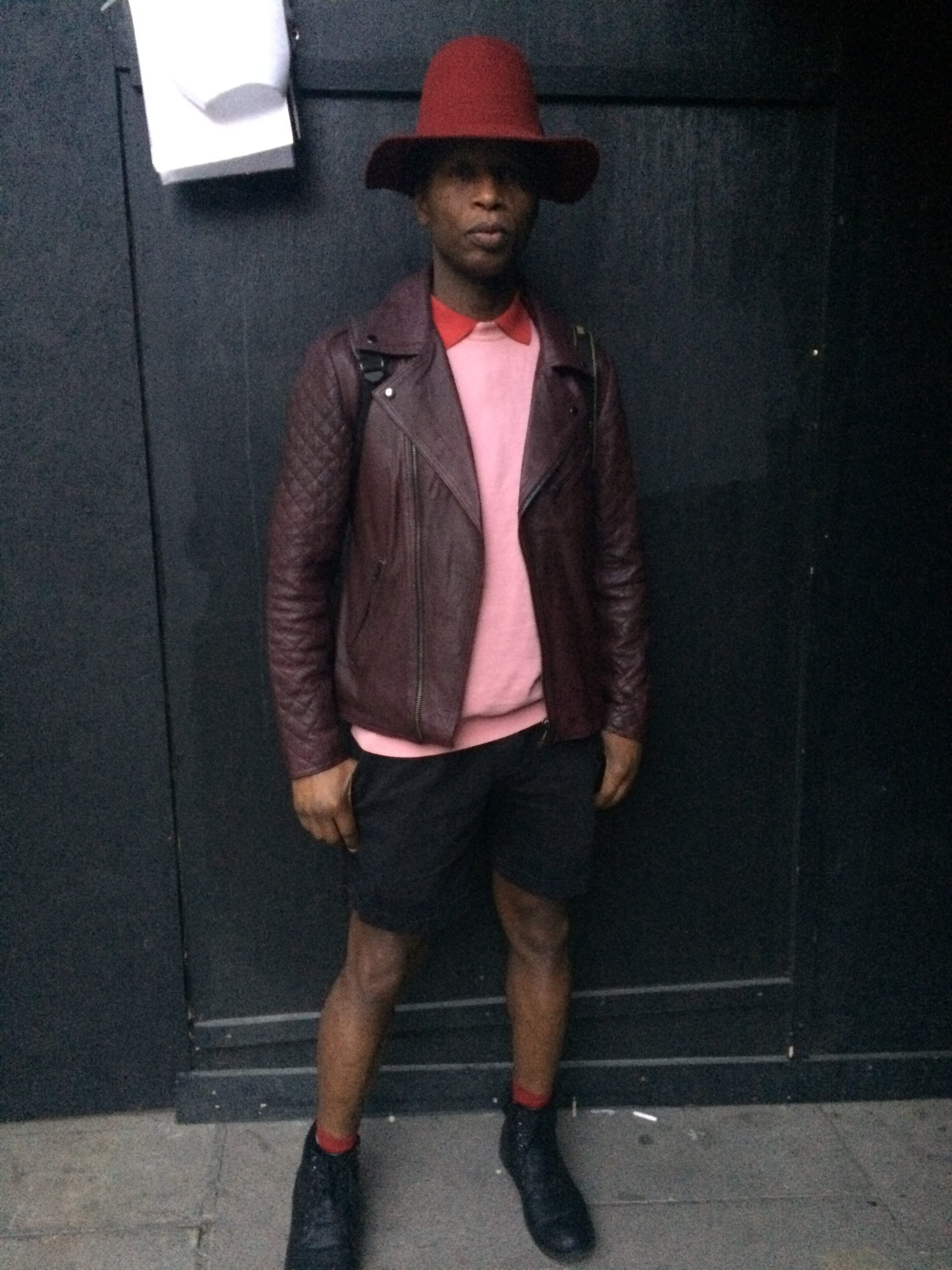 It wasn't just those in front of the cameras who looked amazing, but also those who were snapping the pictures. We spoke to Zokaya, who runs the fashion photography blog Sidewalk Darlings.
He was busy capturing some of the best sidewalk looks, but he'd also evidently put a lot of thought into his own ensemble. "My outfit is a striking resemblance to the aesthetic that I'm trying to display and scout on my blog," he explains.
Zokaya nailed colour clashing, with a pink jumper, red shirt, burgundy hat and plum jacket. Whilst so many fashionistas were strutting around in clothes that are eye-wateringly expensive, Zokaya was proud to tell us that his jacket and boots both came from TK Maxx.
2. Stacey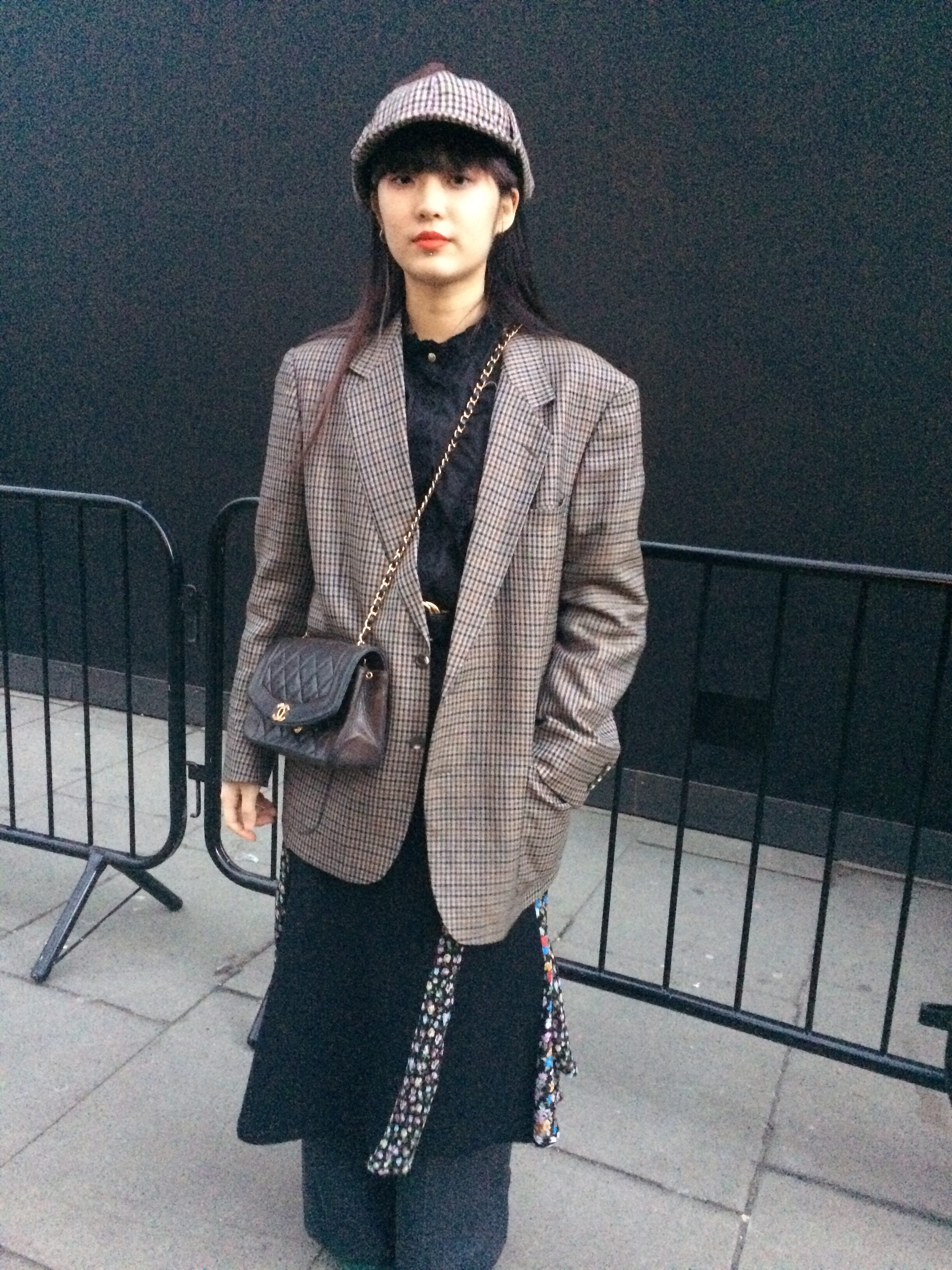 Stacey (who didn't give her last name), was rocking a very refined, elegant look on the Sunday of fashion week. She was wearing a tweed blazer with a matching hat, with the perennially chic quilted Chanel bag slung across her body.
What might surprise you is where Stacey sourced her outfit. "It's a vintage, thrift outfit," she explains, telling us how every piece of clothing she was wearing was vintage – nothing was new. In this era of fast fashion, we really appreciate sustainable clothing…but it probably helps when it looks this good.
3. Harvy Santos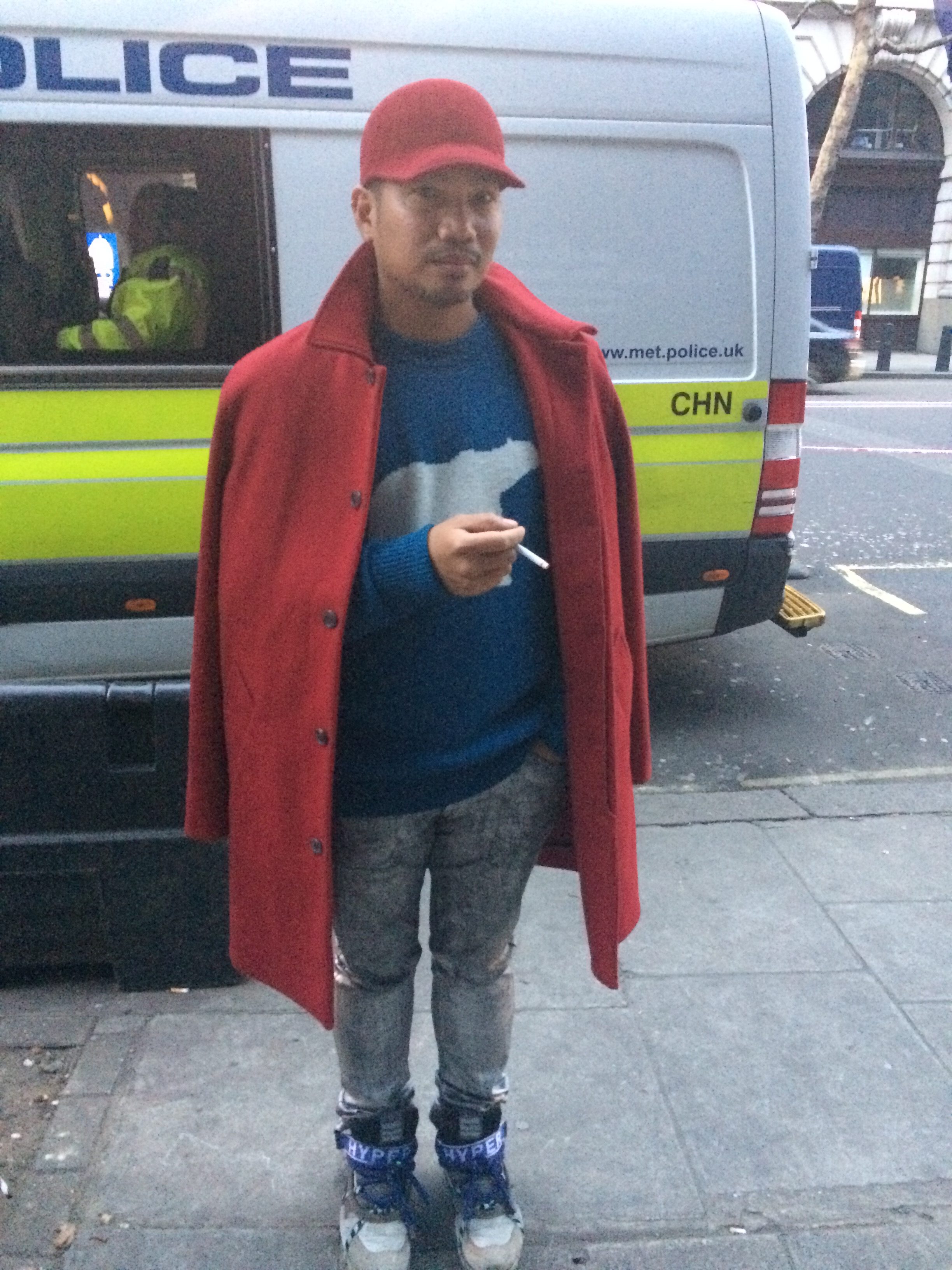 Harvy is a London-based milliner, so you can be sure that he wasn't going to turn up to LFW bare-headed.
"Of course, the hat is one of mine!" he tells us.
Everything else that Harvy was wearing is incredibly fashionable – you very much get the impression that he wouldn't dare shop on the high street. "I'm wearing a Christopher Raeburn jumper, Martin Margiela trousers, Camper Bernhard Willhelm collaboration shoes (which I love), and an A.P.C. coat," he explains.
4. Gianluca Cococcia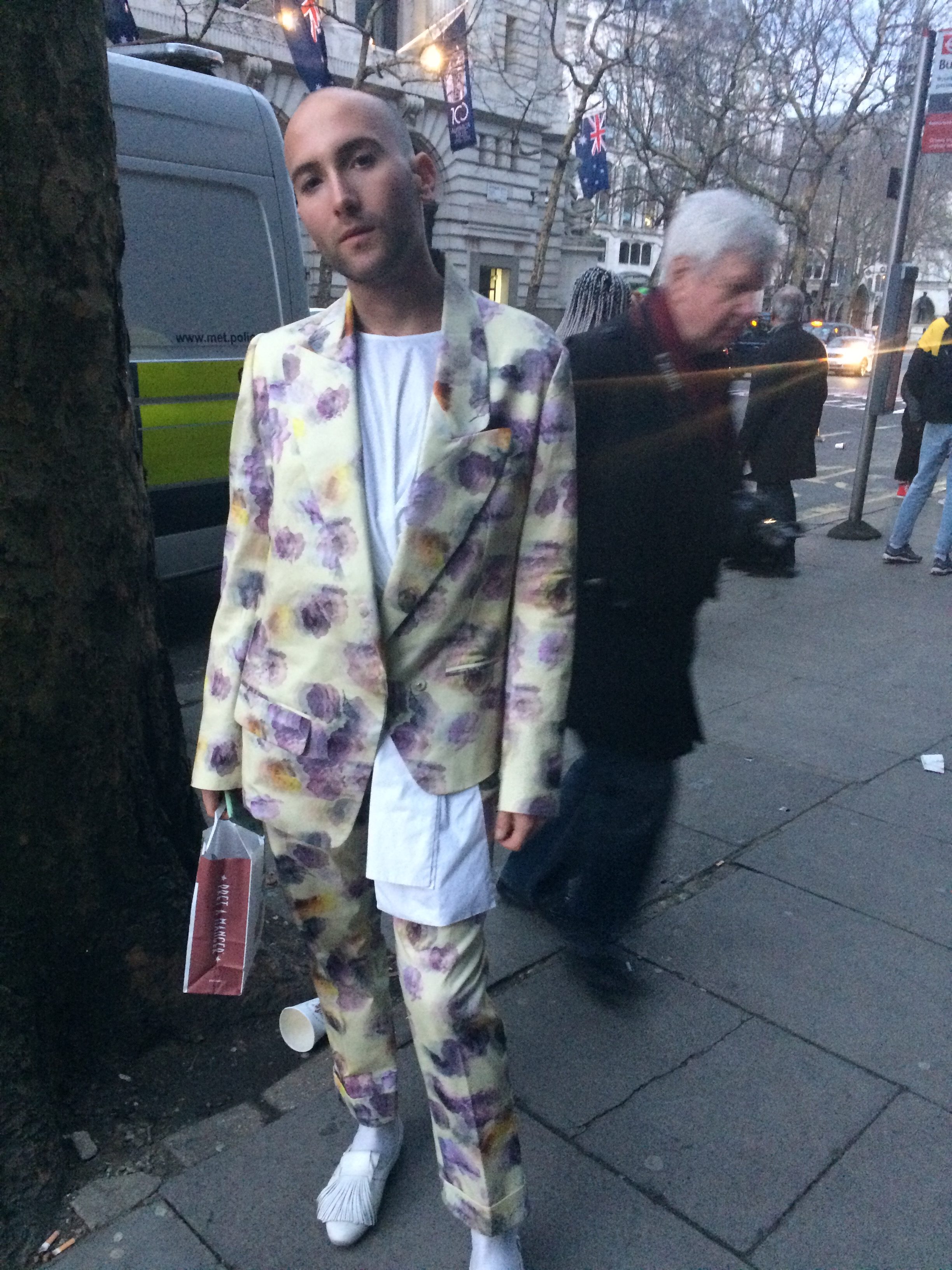 Outside of 180 The Strand, Gianluca told us about his Instagram which is called "Wowgue". In his delightful Italian accent, he says: "It's like Vogue, but with 'wow' in it."
Originally from Rome but based in London, Gianluca says: "This suit is from Les Animaux."
And what a suit it was, with an asymmetric jacket and a pattern that looked straight out of a watercolour painting. Bonus points to Gianluca for somehow managing to make a bag from Pret look like it's part of his carefully crafted outfit.
5. Domenique Heidy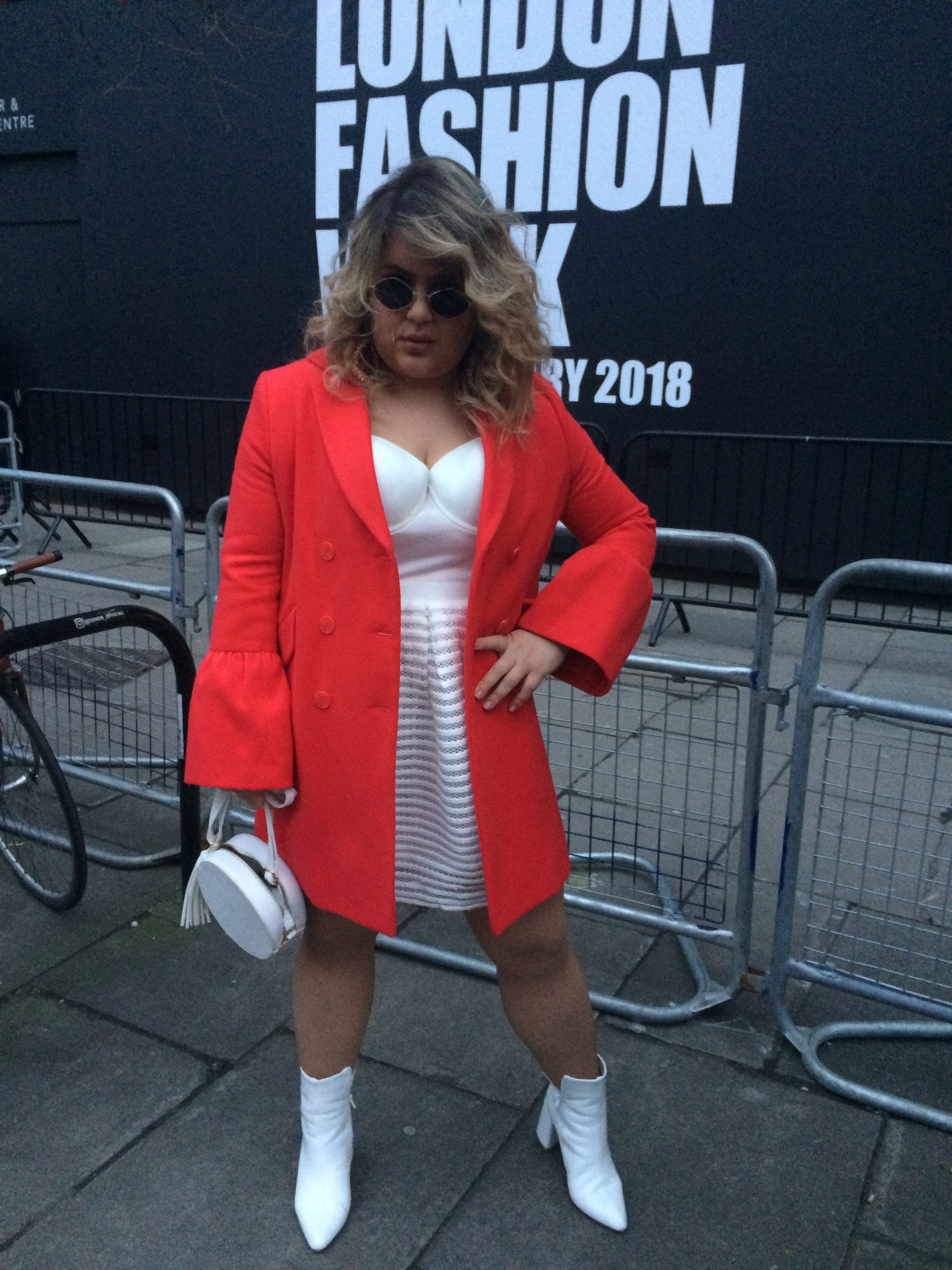 Unfortunately, Domenique was a bit too shy to tell us a bit more about her outfit. However, watching her pose for the camera was something to behold – this fashion blogger and dentist really knew how to work her look.
Domenique's white dress paired with white leather boots and a small circular handbag created a very 60s vibe.
© Press Association 2018